4 Ways to Prevent Emergency Plumbing Calls
Posted by Jason Genah on 03-01-2022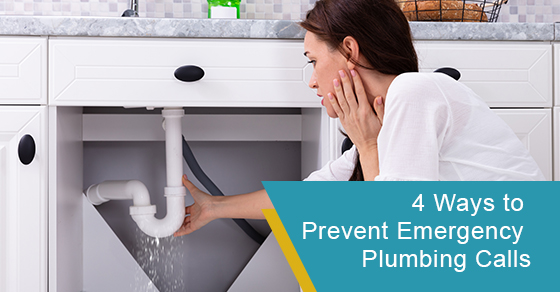 It's easy to take for granted how much we rely on good plumbing for everyday activities. In Canada, a typical person consumes 335 litres of water per day, of which 10% is used for cooking and 35% for bathing. Toilet flushing accounts for 25%. The sheer amount of water an average person uses each day might surprise you, but it's important to remember that – until the start of the pandemic – Canadians frequently left their homes for work and leisure.
As a result, they weren't always controlling how the water was used or in what quantities. But a lot has changed since Canadians headed into lockdown in March 2020. Even now, nearly two years later, most people do their working, dining, and studying at home, meaning that the water usage they have become accustomed to relies more and more on their own household's plumbing systems.
Unfortunately, the average person is not more prepared now than before the pandemic to handle a plumbing emergency. Close to 20% of homeowners admitted, in a recent survey, that they have no money set aside for emergency home repairs. At the same time, nearly one-third of respondents reported having less than $500 available.
That is especially troubling because almost 40% of Canadian homeowners experienced a home repair emergency in the last 12 months. The most common issues? Blocked and overflowing toilets, leaking water pipes, and clogged exterior water and sewer lines – none of which are typically covered by standard home insurance plans.
There is good news, though. At Drain King Plumbers, we want to ensure you get the best value possible from your pipes and water systems. That's why we have put together this handy list of the four best ways to prevent emergency plumbing calls. By following these simple tips and tricks, you can save yourself time – and money – on plumbing damage.
1. Keep food particles and oils from draining into your sink
The kitchen sink is good for cleaning dishes, washing your hands, and preparing fruits and vegetables. But you have to be careful about how you use it. After cooking bacon, for example, it is natural to think you can simply wash off the excess oils into the drain. But bacon grease and other fatty liquids produced when cooking meats can cause backups, pooling, and other drainage problems.
If you find that your sink is already experiencing issues with its drain, try running the tap with boiling water from a kettle. Pour it slowly and steadily to ensure you are not overwhelming the drain. This may require a couple of attempts but usually is sufficient to resolve the issue.
However, the easiest way to avoid buildup in your kitchen sink is to dispose of these materials into the trash or compost before rinsing off the dishes.
2. Don't use too much toilet paper
Though toilets are composed of mechanical parts that falter from time to time, the most common issues people experience with their toilets arise from what they put in them. They often use too much toilet paper, and the excess clogs up the drainage pipes.
If this problem is left unresolved, it can damage pipes. It is therefore critical to address the problem as soon as possible. Start with a plunger. Not only are they surprisingly effective tools, professionals even use them. If you find that isn't working, try pouring a couple of tablespoons of dish soap into the bowl. Once the liquid has settled into the bowl, follow it with warm water. Wait another 30 minutes, and then try flushing again.
There are many other DIY solutions you can try, but what's most important is making sure the issue never occurs in the first place. Try flushing before wiping. Doing so allows the toilet to manage the flow more sustainably.
3. Use a hair strainer in the shower
On average, people will shed 50-100 hairs a day, most of which is lost in the shower. Though hair loss can cause stress, there is nothing to worry about here. The simple act of shampooing your scalp and running it underwater is enough to loosen the strands until they fall. However, what should cause you concern is the effect shedding hair can have on your shower drain. Without a strainer to prevent the hair from going into the drainage, lost follicles can hook themselves onto dirt and debris stuck to the interior of the pipes, thus causing build-up.
Avoiding buildup before it occurs is critical. The easiest – and cheapest – way to achieve this is with a small strainer placed over the drainage hole in your shower. It will catch hair, soap, and other materials from clogging your plumbing and causing damage.
If you find that your shower is already showing signs of buildup, try pouring a cup of baking soda down the drain. Then wait for five minutes before pouring one cup of white vinegar down the drain, too. Wait another two hours, and then pour boiling water down the train.
4. When all else fails, remember the acronym DDIY – Don't Do It Yourself
It's tempting to think that plumbing is just another household chore to tackle yourself. But the simple tips and tricks shared in this article can only help you avoid blocking or damaging your plumbing system. If you find your pipes are badly clogged, and no solution you've tried seems to work, our team at DrainKing Plumbers is here to help. Equipped with years of experience and a sterling reputation for customer satisfaction, we provide plumbing repair and installation services for residential and commercial clients in Toronto and across the GTA. We even offer 24/7 availability to assist with emergencies.
If you need to speak with an emergency plumber in Etobicoke or anywhere in the GTA, call Drain King Plumbers today at 1 833-983-5663 or contact us here.