Why Small Businesses Need Commercial Plumbing Services
Posted by Drain King Plumbers on 29-11-2021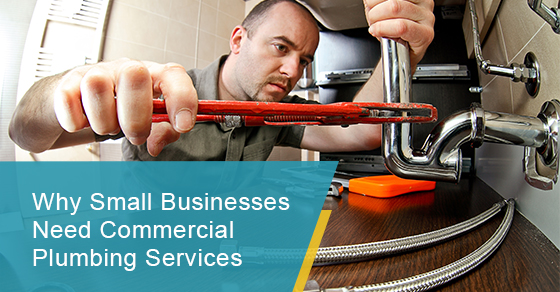 Commercial plumber services handle plumbing maintenance for large business establishments and corporate offices. Residential plumbers work on a smaller scale.
What does a commercial plumber do?
Plumbing repairs for commercial buildings are very different from those for residential buildings. For example, in office buildings, hotels, and manufacturing facilities, the size of the operation is usually much larger. Due to its size, it means that plumbing problems will require more work to fix. Business plumbing work must also follow municipal codes and are usually subject to stiffer insurance and government regulations than a typical residence.
What are your priorities when creating your business plan?
The budget? The client base? Funding? These are important, but if you deal with plumbing issues every day, your business will suffer. A commercial building can be subject to plumbing disasters just as easily as a residential building.
Be sure to check for comprehensive commercial plumbing services offered by a local plumbing company when considering who to work with. The pipes in your building will be doing just as much work as your employees, so you should have regular maintenance and emergency plans in place.
Commercial plumbers work in what types of industries?
Plumbing is a vital part of commercial properties. Businesses have access to a wide range of options. Your local plumber can devise a service plan that works for your business based on your area of expertise. Here are just some of the facilities that benefit the most from the services provided by a commercial plumber:
Hospitality
Manufacturing
Medical
Government
Corporate
Many industries require large-scale plumbing solutions for their base of operations. Some states have federal and local regulations that require specific plumbing systems to be implemented and maintained. It's important to be aware of these laws to provide a safe work environment for your employees.
Here are 4 of the main reasons why businesses need plumbing repair services.
1. Cleaning of drains
It is common for business premises to have clogged drains. The likelihood of blockages is greater since workers care less about plumbing maintenance and upkeep than homeowners do. When plumbers are brought in to fix this problem, they often find coffee grinds, tea bags, and other debris that have been allowed to clog the drains.
Thanks to modern drainage systems, most commercial properties can utilize advanced drain cleaning equipment. By using closed-circuit camera inspections and hydro-jetting, almost any blockage can be dislodged and cleaned.
2. Utility Installations
Utility installations are common on business premises, including:
Fountains for drinking
Toilets and urinals
Facilities for employee showers
Catering services (staff or public)
It's crucial to ensure that commercial plumbing work is done correctly for water supply, pipes, and drainage systems. Both in terms of insurance and liability, this is vital. If a water heater malfunctions and an employee is burned, you may be liable for damages. Unqualified workers who perform the repairs may expose you to even greater liability.
3. Conservation of water
Environmental sustainability is a hot topic right now. If you aren't minimizing your footprint as fully as possible, a plumbing review may be the first step. It is possible to conserve water while maintaining your operational standards, and a tax rebate might even be a possibility!
4. Contracts for maintenance
Preventing plumbing problems is always better than trying to fix them afterward. Business owners can benefit from a maintenance contract that covers repairs and maintenance of commercial plumbing equipment. Keeping everything in good working order is essential for business owners to avoid expensive plumbing problems that arise unexpectedly.
5. Regular backflow testing
The prevention of contaminated water invading your pipes and resulting in costly repairs is achieved by regular backflow testing. In addition to installing, maintaining, and repairing the backflow valve, a commercial plumbing service can provide standard service.
Make sure you locate a plumber experienced in commercial installations as soon as possible, rather than waiting until you need repairs. Prepare in advance for any issues that may affect your profitability by knowing who to call.
What to Look for in a Commercial Plumbing Company
In some ways, plumbing services for a business and home are similar. There are also tremendous differences between them. Repairs and commercial plumbing installations can apply to much bigger properties with hundreds of plumbing fixtures, so more complex solutions may be needed.
Professional experience
The difference between commercial plumbing and residential plumbing must be considered. For instance, servicing grease traps is a necessity for a restaurant. It takes someone who has the right knowledge and equipment to remove that type of waste.
Providing excellent customer service at an affordable price
Customers should be offered the highest quality at an affordable price, which helps reduce the cost of new commercial projects and repairs. Any job that is performed should start with a detailed explanation of what to expect with no hidden fees.
In order to complete commercial plumbing work correctly the first time, you need a team of experts. The installation of some plumbing equipment requires professional HVAC service providers.
Installations and repairs
Any team that provides plumbing installation and repair should be able to provide you with high-quality plumbing services. A skilled team of technicians will complete every job according to the requirements, regardless of its size.
Insurance and License
Whatever the size of your business, you will need a licensed, insured commercial plumber. Performing plumbing repairs and installing new plumbing systems should be taken very seriously by professional, commercial plumbing services. A skilled technician will address clogs, leaks or other water-related issues and repairs as quickly as possible.
Maintenance
Plumbing services for commercial buildings should not end once the installation or repair is complete. All plumbing components should be kept running efficiently and at peak performance with plumbing maintenance plans.
An experienced and educated plumber should handle any plumbing project you need, whether it is an emergency or new construction.
For more information about how we can help with commercial plumbing services, call Drain King Plumbing at 833-983-5663 or contact us here.