8 Essential Questions to Ask When Hiring a Plumber
Posted by Drain King Plumbers on 01-01-2021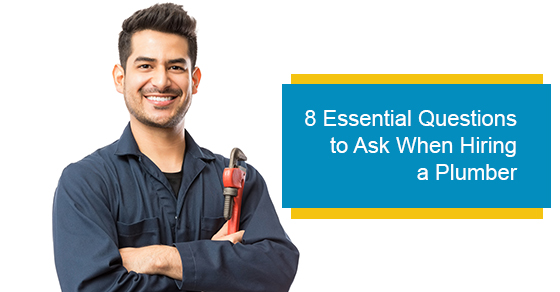 When looking for a plumber in North York, you will be faced with a huge selection of companies from which to choose. While you would expect that all plumbers receive the same level of training, their workmanship varies considerably, with some getting rid of the problem the first time and others causing more problems and resulting in serious damage. There have also been cases of some plumbers charging their clients exorbitantly for fairly little work.
Fortunately, most negative experiences can be avoided by doing your due diligence before hiring a plumber. Here are a few questions to ask in order to increase your chances of finding a reliable plumber:
1. Is your company licensed?
Having a license means that the company is qualified to offer plumbing services. However, if you find one that is not, it means that they won't be operating under any regulations, and cannot be held liable for any problems that occur on the job. Even if you know an experienced plumber, as long as they're not licensed, it's best to avoid them. Work done by unlicensed contractors may fail inspections, leaving you with no options to recover losses. Plumbers are generally required to take continuous competency tests to show they're qualified and up-to-date on the newest standards and codes, after which they're registered with the Ontario College of Trades and permitted to handle certain tasks. Moreover, only licensed contractors can be awarded permits to do jobs in the city. So, you shouldn't compromise on your plumber's competence.
2. Are your plumbers individually licensed?
You need to determine that the individual service workers are licensed in their trade. Generally, you should find out if the plumbing company you want to contract will be working on your project themselves, or whether they intend to sub-contract the work to another party. In the latter case, make sure to ask for the experience and references for the subcontractors to assess the quality of their work and professionalism. Any licensed plumber should be able to carry on from another plumber's work because it has been done in a manner that is legal and consistent with your local and national building codes. Unlicensed plumbers will not be granted the permits required for specific jobs, which may put your project at risk of stalling or becoming illegal and subject to fines or indefinite shut down.
3. Are you insured?
Carrying insurance cover is just as important as being licensed. It protects you in the event of accidents or mistakes during your plumbing project. Although mistakes, thefts, and accidents are quite rare, they can cause serious problems, especially when there's no insurance to compensate the damages. As such, it's important to choose a plumber with the appropriate builder's risk, bonds, and workers' compensation insurance. This will give you peace of mind that you won't have to pay unexpected expenses out-of-pocket or suffer if the plumbers default.
4. What are your references?
While being licensed is important to ensure that the job is up to standard, having experience is also vital in this line of work. Your preferred professional plumber should have at least 3 to 5 quality references from previous clients who you can easily get in touch with to verify the quality of work. Make sure to request for references and check them out personally before signing any contracts.
5. What is your service fee?
Many plumbers tend to charge a service fee for visiting your job site regardless of whether or not they perform any tasks towards solving the problem. As long as they show up, you will be expected to pay a nonnegotiable fee before you can start discussing the costs of the actual project. So, make sure to ask about the service fee before inviting them to your project site to avoid any hidden costs.
6. What area of plumbing do you specialize in?
Professional plumbers prefer to operate within their specialities, so it's important that you find the best suited for your type of project. For instance, plumbers who specialize in remodeling jobs may not necessarily be the best at service and repair work, especially since they may not have the right tools and equipment. Finding the right plumber will ensure that the job is done right the first time.
7. What is the cost of the plumbing project?

You should find out the expected total cost of the project before work starts. The plumber should be able to make an accurate estimate after visiting the site and determining what needs to be done. Ask them to provide a comprehensive estimate that includes the cost of materials, cost of labour, any hidden fees such as transport to the site, and a contingency for risks. Any additional consultation fees or follow-up costs should be included. Scrutinize the quote for any unclear entries or hidden charges, and determine whether the labour cost is a flat or hourly rate. This will also help you determine how long the project is expected to take.
8. When will the payment be made?
There are different payment options depending on the type and scale of the project, so it's best to find a plan that works for your needs and budget. Generally, try not to pay any money up front, unless you need to pay 25 to 50 percent of the project costs as a gesture of goodwill for larger projects. Otherwise, you should only pay once the project is completed, or pay a certain percentage after a portion of the project is completed. Payment based on milestones is convenient for all parties because you can continuously monitor the quality and speed of the work.
Final Note
Don't forget to evaluate your prospective plumber's credentials. While credentials alone don't necessarily denote quality workmanship, they are a good indicator of the plumber's commitment to their trade. Moreover, they show you that the plumbers are up-to-date on the newest building techniques and practices that optimize efficiency. You may, for instance, consider choosing plumbers who have memberships in unions, the Better Business Bureau, and local contractor organizations because these are good indicators of their commitment.
For more information, please contact Drain King Plumbers.