What to Do if a Pipe Bursts in Your Home: A Step-By-Step Guide
Posted by Drain King Plumbers on 07-09-2022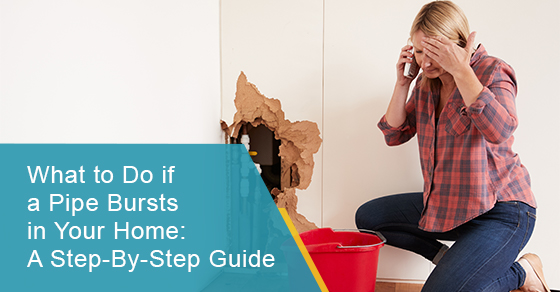 A burst pipe is a big problem. For GTA homeowners, it means property damage, a big mess, and calling a plumber in Toronto.
When a pipe bursts, it's usually easy to detect. Even if it's not visible right away, there are signs to look for, including
A wet spot near the burst pipe
Water leaking into your home
Low water pressure
A higher than average water bill
All of these signs point to trouble in paradise. Fortunately, it's fixable and something most plumbers are experienced tackling.
Do you have a burst pipe in your home? Here's what you should know.
What happened to my pipe?

There are many reasons a pipe might burst in a residential property. Sometimes, it helps to know the cause to prevent more such instances in the future. At Drain King Plumbers, some of the most common reasons we see bursting pipes are:
Water pressure: Water pressure should be consistent in your home, with moderate changes during use. If extreme pressure changes occur, it could cause pipes to become overwhelmed and break.
Temperature: Pipe damage becomes more frequent as the weather changes. Rising and dropping temperatures cause pipes to expand and contract. Frozen water in pipes can result in cracked pipes due to a fast rise in pressure.
Clogs and blockages: Blockages in water pipes go hand-in-hand with water pressure problems. Blockages build up pressure on one side of your pipe, which eventually creates weaknesses and cracks in the pipe.
Corroded pipes: Your plumbing is designed to be durable, but it breaks down like any other material constantly interacting with water. Corrosion is caused by electrochemical reactions in the pipe metal caused by other metals in the water. This makes the pipes rust and deteriorate.
It's important to act quickly and cautiously when tackling a burst pipe. The first step should always always be calling a plumber in Toronto. The next section of this blog will offer a more in-depth plan of action.
Steps to Take When a Pipe Bursts

Okay, so a pipe bit the dust, and you don't know what to do. Don't panic! Unfortunately, burst pipes happen from time to time. Hopefully, this is a rare or one-time occurrence in the lifespan of your home. What's important is how you deal with it.
Here are a few things we suggest you do to handle things with minimal stress.
Call a Plumber

Some plumbing services recommend this step last, but we suggest getting it out of the way as soon as possible. Why? Emergency, after-hours, and weekend plumbing services often cost extra.
There's also a possibility that your local plumber has other homes ahead of yours to see before they arrive.
Put yourself in the queue for a plumber right away. Then, take your time dealing with the other steps you need to perform to deal with the leaking pipe safely.
Fortunately, Drain King Plumbers offer 24/7 emergency plumbing services across GTA. We're also extremely competitive in our pricing.
Shut the Water Off

Once a plumber is notified of the crisis, the next step is turning off your water. Most homes in Toronto have a main valve located in the basement.
Yours may be in a different location. If you can't find it, look for your water heater, as it's usually nearby. It's a good idea to turn the water heater off at the same time.
Turning off the valve can be tricky because it's doubtful you turn it on and off often. If it sticks, don't panic. You've already called the plumber, and, in the worst-case scenario, they will shut it off for you.
Turn on the Faucets

The problem with turning off the water is that pressure can build in your pipes, especially if the weather is cold.
Turn on all the cold and hot water taps, and let the faucets run until they empty. Leave them in the "on" position to reduce pressure until a plumber gets a chance to check things out.
Wait for the Plumber

Now that the stressful part is over, you can wait for the plumber to arrive. If there is water pooling anywhere in your home, begin the cleanup process. Keep note of anywhere you've found water. This will help the plumbers deduce where the leak is.
A burst pipe can happen anywhere in your home. It might not necessarily be right next to a pool of water on the floor.
That water might have found its way down the side of the wall from above before leaking out onto the floor.
There may also be multiple burst pipes or damage to a second pipe from the initial burst. Fortunately, Drain King Plumbers have plenty of experience locating and resolving damaged pipes.
Your plumber should diagnose the cause of the pipe bursting and give you a quote for the repair. Remember to have the plumbing inspected yearly to ensure everything is in working order.
This doesn't always prevent a burst pipe, but it certainly reduces the chances of various plumbing issues.
Documenting the Damage

The final step to dealing with a burst pipe is writing down any damage you see. This is important for insurance purposes. A sudden burst pipe is most likely covered by general homeowners insurance (depending on your policy and insurance company).
To receive compensation for damage to your property, photos and a written account go a long way. Your plumber can help you figure out what kind of damage your home has incurred in the process.
Contact Drain King Plumbers to Learn More

Drain King Plumbers is a leading plumbing company in Toronto. We serve clients across the GTA through a variety of plumbing services, including
Frozen pipe repair
Drains
Sewers
Flood protection
Fixture installation
Emergency plumbing
Whether your burst pipe falls under frozen pipe repair or emergency plumbing, you can count on us to find the damage and get it fixed.
For more details on our pipe repair process, call Drain King Plumbers at 1-833-983-5663 or visit us online to get a quote.