Commercial Plumbing vs. Residential Plumbing: What's the Difference?
Posted by Drain King Plumbers on 26-04-2023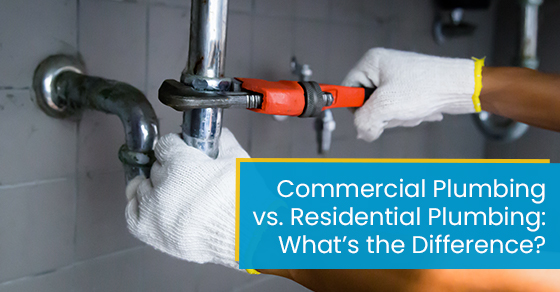 You've likely heard the terms commercial plumbing and residential plumbing. What's the difference between them, though? Pipes are pipes! We may never give the plumbing in our homes or buildings a second thought; in reality, however, there are differences between residential and commercial plumbing.
In this article, therefore, we will outline the differences between residential and commercial plumbing services in Toronto.
Residential plumbing: What is it?
Residential plumbing deals specifically with services for the home. It includes drains, water and sewer lines, plumbing-related fixtures, and water heaters.
Residential plumbing involves:
Low-density or single homes.
Smaller jobs because the plumbing system is less complex.
Limited or no regular maintenance required.
Calls to plumbers (often reactive) after burst pipes, broken taps, or blocked toilets occur.
Commercial plumbing: How does it differ?
Commercial plumbing involves complex pipe and faucet installations/repairs. It engulfs various large housing complexes and businesses. Silent leaks, sewage blocks, low water pressure, and other issues force temporary closures, costing companies money.
Maintenance and installation of vast waste removal and water supply systems are also involved. So, if you are looking for a commercial plumbing service in Toronto, ensure they are a commercial plumber, not a residential one. Commercial plumbers have different expectations and have different working relationships with their clients.
Commercial plumbing involves:
Large buildings with volumes of occupants like offices, schools, strata buildings, and shopping malls.
Require preventative maintenance to eliminate problems from happening in order to avoid disruptions to business.
Significant jobs because the plumbing system is complex.
Mandatory inspections and maintenance of plumbing systems.
The Differences Between Residential and Commercial Plumbing
There are stark differences between the two types of plumbing. Commercial plumbing is more involved because of the intricacies and vastness of the systems required for the plumbing to operate efficiently.
Below, we outline the significant differences between the two.
1. Daily usage
For commercial locations, there is a greater demand for daily plumbing usage when compared to residential plumbing. Clients and employees will use the system more frequently than in a residential property. In a residence, often only one family depends on the system. This job thus requires fewer outlets and pipe fittings.
2. Different complexity
Commercial locations may have multiple floors, toilets/urinals, and many sinks. Residential buildings have easy navigation throughout the dwelling. On the other hand, commercial plumbers must understand increasingly complex building structures.
3. Durability and size of plumbing systems
Since a commercial building will experience more use, larger fixtures containing high grading and long durability are used. They reduce breakdowns from pressure and strains throughout the system. Household systems, however, have smaller plumbing systems in addition to lower-grade pipe fixtures, as they do not experience comparatively frequent usage.
4. Plumbing system efficiency
Plumbing systems are not infallible, and damage can happen at any time. Clogged bathrooms in commercial systems pose challenges to many people and require immediate fixing. When this occurs, you should hire a professional with experience in commercial plumbing.
Damage that appears small, in this case, can create an enormous problem throughout the foundation of your piping system.
5. Differences in water heaters
Commercial heaters involve larger storage tanks, requiring a higher gas input level. People need larger amounts of heated water than in a residential setting. Commercial tanks are more extensive and contain 250 gallons of water. Residential heaters are no bigger than 100 gallons.
6. Likelihood of damage
Complicated plumbing systems in commercial locations receive increased damage compared to residential areas. This is due to their complexity. Residential plumbing damage is limited because the plumbing system is smaller. Damage in a commercial plumbing system can create a disaster, especially if the space encompasses multiple floors.
7. Health concerns
More people use commercial buildings, particularly if they contain any dining features. Therefore, there is a requirement to adhere to strict health codes and ensure the plumbing system is hygienic. Homes can be managed easily because there are fewer people involved.
As well, commercial plumbing needs different features that can be easily cleaned and quickly drained.
8. Tight repair schedules
Commercial plumbing follows a particular schedule. Building repairs must be done in an established time frame as more individuals depend on the system to operate correctly. Any delay can lead to a loss in business.
9. Differences in work scope
Commercial plumbing is repetitive since they involve larger plants and equipment for bigger applications. Residential plumbing requires a standard eight-hour workday, with the exception being emergencies. By contrast, commercial plumbing can occur at any time of the day.
Sometimes, a commercial plumber will be called on holidays or weekends when the business is vacant.
10. Cases of running and dripping water
Finding running water and small leaks is easier in a residential space. Homeowners use their plumbing regularly and notice small leaks quicker. With a commercial structure containing several floors, leaks can be easily missed. Such leaks can lead to significant water wastage, heavy drips, and large water bills.
11. Drainage issues
Draining a residential location is straightforward if you compare it to the scope of commercial plumbing. Snaking a drain line can take time and is complex for a storage building with multiple units. Plumbers must individually snake each unit to confirm that clogs are cleared to its main sewer line. With residential plumbing, these same issues are easier to solve.
What do commercial plumbers do?
They are specialist plumbers who repair, maintain, and install plumbing systems in commercial locations. This can include schools, retail outlets, colleges, universities, restaurants, hospitals, manufacturing plants, warehouses, and care homes.
A commercial plumber must follow building plans and designs. They work on more complex and extensive plumbing systems. The scope involves boilers, water heating systems, fire sprinklers, and other features. While residential plumbers operate on one to three-story dwellings, commercial plumbers deal with many stories, like in an office building or hotel.
Sometimes, commercial plumbers design infrastructures like pipework, boiler systems, and waste sewage systems.
Drain King Plumbers for All Your Commercial Plumbing Needs
If you need commercial plumbing services in Toronto, contact Drain King Plumbers at 833-983-5663 or visit our website here. We are equipped to handle all your commercial plumbing needs, from upgrading/cleaning fixtures to drainage and waste disposal.
At Drain King Plumbers, we address all big and small issues to get your business running properly again.