7 Plumbing Services You Should Know About
Posted by Drain King Plumbers on 07-12-2022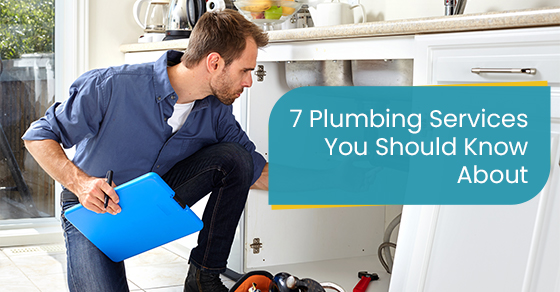 It is extremely important to keep all your drainage and pipes clean and unclogged. Most people don't realize the importance of plumbing until they have to start dealing with a leaky faucet that becomes too expensive to replace. As your home ages, several fixtures and installations in the kitchen and bathrooms begin to have plumbing problems.
While most minor issues can be resolved using DIY techniques and basic plumbing knowledge, sometimes expert intervention is required so that repairing it is permanent and worth it in the long run.
When it comes to plumbing, the most common problem is blocked drains. Over time, it becomes a leading cause of all sewage-related issues. Blocked drains are not always easy to spot until they are completely clogged. Here are some of the signs of blocked drains:
Flushing your toilet leads to overflowing or a rumbling noise that wasn't previously there.
Your sink and bathtub are slowly emptied or the water pools before gradually draining out.
Smelly mould, bacteria, or rot comes from the entrance of your drainage.
Blocked drains are caused due to multiple reasons. The main issue is leftover food getting clogged. Hair, flushable wipes, and too many paper towels also lead to clogged drains. Getting them flushed out periodically goes a long way in maintaining overall hygiene.
If you want to keep your plumbing system in optimal condition, take a look at these seven plumbing services that you should know about:
1. Professional drain cleaning
When it comes to getting your drains professionally cleaned, it is best to have it treated before the blockage becomes severe. You can identify a blockage when the pipes disrupt water from flowing freely. We recommend contacting a professional plumber and get your drains properly cleaned so they are free of debris and buildup. Receiving regular drainage clearing will prevent long-term clogs, buildup, slow-running drains, and chemical corrosion in the long run.
2. Cleaning sewer backup
Allowing your sewers to back up can be tricky. When wastewater enters your home, it contains bacteria and chemicals. Contaminated water left unattended becomes a breeding ground for diseases and mould, which can lead to illness. If you ever have a sewer backup, the best option is to get it professionally cleaned so that all types of contamination are dealt with.
3. Leakage repair
Leakage is one of the most common problems faced in households and can occur at any time. Many people choose to repair minor leaks on their own with basic tools. Thus, they can effectively solve their leakage problems.
Professional plumbers, however, are more equipped to deal with such issues as they have knowledge about basic drainage and pipes, and do not rely on trial and error. Getting massive leaks handled professionally ensures a long-term solution and guarantees better results.
4. Toilet repairs
It is common advice not to fix a broken toilet on your own as it may get worse. When you have an overflowing toilet, it can be challenging to gauge where the actual problem is and how to resolve it.
Plumbers use special equipment designed to unclog toilets without having to dismantle the entire fixture. For example, they use a high-powered water jet in order to clean all clogged pipes and wash away the debris and dust.
5. Pipe repair and replacement
Leaking pipes can lead to bigger structural problems in the long run and should be repaired at the earliest time possible. Long-term leakage can cause cracks in the house's foundation and walls, making structural repairs costlier.
Professional plumbing service providers specialize in pipe-laying and pipe-fitting and are skilled at setting and securing the pipes correctly to prevent future leaks and bursts.
6. Water heater services
Water heaters must be regularly maintained, as they have a long lifespan and can last for over a decade. If you need to repair your water heater, it is best to get it done professionally because different models require specific servicing. Plumbers are aware of the best models in the market and which one is best suited for your home and family needs based on your usage.
7. Installation, inspection, and replacement
Getting all your installation, inspection, and replacements from licensed plumbers is an excellent way of ensuring that you have quality fixtures and installation in your home. Your kitchen and bathroom sinks, showers, tubs, faucets, and dishwasher should all be professionally installed so that they don't need a lot of maintenance in the long run.
Contact the Professionals: Drain King Plumbers
Some plumbing projects are best left to the professionals. When looking for plumbing services, you should choose a reputable local plumber that can arrive at your home as soon as possible. This way, you can call them if any future issue arises get superior service from start to finish. Remember to explain the problem in detail and keep all warranty cards handy for any fixtures.
For more information about sewer and drain cleaning in Toronto, please get in touch with Drain King Plumbers. You can also book an appointment at 833-983-5663. Visit our website here to for more details about our different drainage cleaning services.