Clogged Drain? Here Are 5 Things Your Plumber Can Do for You
Posted by Drain King Plumbers on 15-01-2021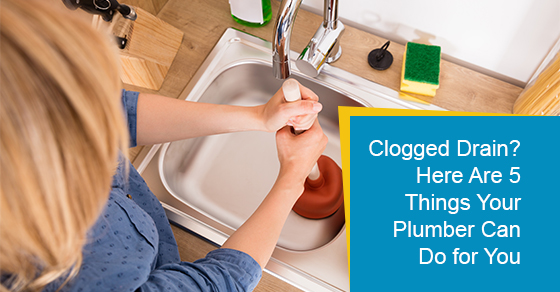 Everyone enjoys the convenience of smooth flowing water after using a plumbing fixture, like washing your hands in a sink, taking a shower, cleaning dishes, or using the toilet. However, the assortment of dirty elements that you dispose of in a drain can cause it to clog, and in some cases, allow waste water to back up in the drain and overflow from the fixtures.
Just about anything that goes down the drain can lead to a serious clogged drain in Toronto, including food particles, soap scum, hair strands, stringy vegetables, excess toilet paper, and so on. When you have a clogged drain, and your sinks and toilet are not functioning properly, it's important that you contact professional plumbers as soon as possible to reduce the risk of messy accidents and water damage.
You should call plumbing experts as soon as you identify signs of a clogged drain, such as bubbles forming as the water drains; the dirty water taking too long to clear from the bathroom, sink, or toilet; or strange odours coming from the drain. While some issues can be easily taken care of using a plunger, hiring professionals will ensure that the root of the problem is solved to prevent it from happening again.
Here are some strategies that professionals plumbers use to clear a clogged drain:
1. Video inspection
Professional plumbers use a long fiber-optic cable fitted with miniature cameras and LED lights on one of the ends to inspect drains. The video pipe inspection helps to identify the type of clog and the best tools to remove it, as well as the areas that should be cleaned. This eliminates most of the guesswork, so the plumbers can address the problem directly. Camera inspections can detect foreign objects in the pipeline, including collapsed pipes, tree roots, and accumulations of toilet paper and other items. Moreover, it is a faster and less invasive process than digging up an area of your property to inspect the pipes.
2. Clearing the drain
Professional plumbers use different types of drain augers or drain snakes to clean the drains. While most households are familiar with manual drain snakes, your plumber will most likely use a powerful motorized drain auger, featuring a motor and long coil of wire to reach deep in order to remove thick clogs. The terminal end of the drain is shaped like a corkscrew hook that is fed into the drain and rotated manually or with a motor. As the motor turns the wire, the plumber screws one of the ends of the drain auger into the clog to either break it apart or extract it and clear the way. Motorized drains can reach as far as 150 feet, helping to clear larger clogs with years or decades of coagulated hair, grease, and other dirt.
3. Cleaning the drain
One of the common ways of cleaning a drain is through hydro-jetting or scour jetting. This method uses a motor and nozzle system to shoot out a jet of hot water at extremely high pressure. This force helps to scour the inside of the drain, remove blockage, and deep clean the interior of the pipe. Hydro-jetting streams typically reach 35,000 PSI, which is sufficient to thoroughly clean the interior pipe walls and leave them in "like-new" condition. Handling the high-pressure blasts of hot water requires expertise, so it's important that you leave such a dangerous task to the professionals in order to minimize risks.
4. Tree root removal
There are some instances when clogged drains are caused by tree root entanglement with the pipes. Fixing this issue is a complex procedure that requires a combination of skill and the right equipment. To see if tree roots are the problem, professional plumbers will feed a sewer camera through the pipeline to find the location of the clog, take real-time photos of the area, and then review the footage to determine the best procedure for removal.
If tree roots are the cause of your plumbing issues, the plumbers will have to carry out underground repairs by digging into your front or backyard to access the pipes, remove the damaged ones, and replace any cracked pipes because of the leaks that attracted the roots. Keep in mind that you will need a permit from the Toronto City Council to carry out a tree removal when the roots cause sewer or drain blockages. Failure to get a permit can result in a fine of between $500 and $100,000 per tree.
5. Updating old pipes
If the plumbers determine that you have poor quality pipes or clay pipes such as those found in older homes, they may recommend updating them before they become brittle and vulnerable. Professional plumbers recommend using pipes made of copper, PVC, or galvanized steel.
Caution When Using Chemical Drain Cleaners
When you have a clogged drain, you may look for seemingly fast and cheap solutions to quickly get rid of the smelly and annoying problem. For many people, this means purchasing chemical drain cleaners at a local store. However, most of these chemical solutions are harmful to your drain, and may corrode the pipes or damage the PVC. If the results from using one chemical are unsatisfactory, you may decide to try other more powerful chemicals, which can trigger dangerous reactions that release toxic fumes. It's best that you wait for your local plumbers to arrive and fix the problem.
Professional plumbers don't use chemical cleaners because they're usually ineffective, tend to damage the pipes because of their corrosive action, and they're highly toxic to humans and the environment. However, if you must try something first before the plumbers arrive, only use an enzyme cleaner, which is safer on the pipes, though less effective.
Final Note
Unless you have a clogged drain, we recommend that you schedule annual drain cleaning to prevent clogging and maintain regular water flow. Moreover, emergency plumbing services tend to be more expensive than routine checkups. That said, you can take advantage of the plumbing experts coming to your home, so they not only quickly and efficiently tackle the job, but also inspect your entire plumbing system and make the necessary repairs or upgrades to prevent any problems in future, usually with labour warranty coverage.
For more information on unclogging your drains, please contact Drain King Plumbers.