5 Benefits of Investing in Plumbing Maintenance Plans
Posted by Jason Genah on 10-01-2022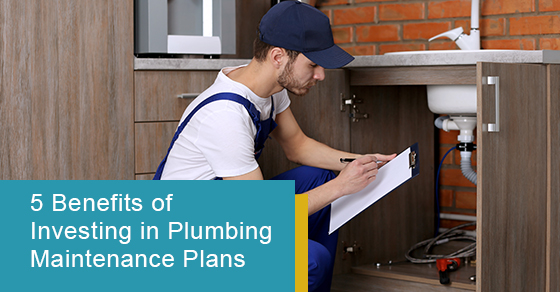 Whether it's a car, a home, or an RRSP, a good investment always needs some kind of maintenance. Your plumbing system is no different. Though plumbers are usually only called when emergencies occur, the best value you can get from their services is to use them even when your plumbing systems seem to be working. That's why the team at DrainKing Plumbers offer plumbing maintenance plans. We believe that the best defence is a good offence – and that means regular check-ups to root out problems before emergencies happen.
In this article, we'll help you understand what these services offer and outline the five reasons why you should invest in one now. Our plumbing maintenance plans will help you:
Save Time
Save Money
Protect Your Home
Protect Your Family
Get Peace of Mind
Before going any further, though, it's important to look at plumbing maintenance plans and what they offer.
What is a plumbing maintenance plan?
It's an ongoing plumbing service designed to keep your systems running properly, full of perks and benefits that put you, the customer, first every time. For a fixed and recurring payment – that is the lowest in the GTA – our staff will complete regular check-ups on your plumbing system to fix leaks, unclog drains, drain the water heater, check the water pressure, and more. In addition to these services, maintenance plan subscribers also benefit from preferred rates, scheduling priority, full system inspections (with options for part replacements and upgrades), and our trusted emergency assistance services.
In other words, you can think of our service as more than just a maintenance plan. It's an ongoing relationship with one of the most highly-rated plumbing companies in your city – and, as you will soon see, so much more.
1. Our maintenance plans will save you time
Plumbing problems can take anywhere from a couple of minutes to a couple of days to fix. But in extreme cases, such as basement floods and other mishaps, more time may be needed. With regular check-ups, though, the likelihood of such severe outcomes occurring greatly decreases. By inspecting for leaks, unclogging drains, and other routine exercises, you won't need to worry about disrupting your schedule because of plumbing issues. The time you save not dealing with plumbing problems is time you can spend doing the things you love – and that's real value.
2. Our maintenance plans will save you money
Since the start of the pandemic, Canadians have been spending more time at home than ever before. A recent study suggests that has placed considerable strain on Canadian plumbing systems, with more than a third of homeowners needing plumbing services within the last twelve months. Worse yet, that same study found that two-thirds of Canadians aren't aware that they bear the financial burden for any needed repairs of water and sewer lines connecting their home to municipal systems.
Close to 20% of respondents wrongly believe that their homeowners' insurance would cover these costs, while another 20% think their local government would. A recent report found that plumbing repairs in 2021 cost the average Canadian homeowner anywhere between $125-$800. Likely, the average homeowner does not have enough money saved up to handle such plumbing emergencies, as nearly one in five homeowners have no money set aside for such expenses, and almost one in three homeowners have less than $500 available.
An alarming number of Canadians are not only using their plumbing systems more often than ever before – they're also more unprepared than ever to handle the costs of repairs. With numbers like these, you truly owe it to yourself to sign up for one of our maintenance plans. Our dedicated and knowledgeable staff will help you identify and resolve plumbing issues before they become plumbing emergencies. The money you save in the long term could be used on other investments and things you value.
3. Our maintenance plans will protect your home
The effects that plumbing-related water damage can have on your home are no joke. Within just a single hour of your home being exposed to water, drywall starts to swell and break apart. Within two hours, wood and floors warp, and metals rust. These effects will compound, if left unattended, with three broad categories defining the severity of the damage.
Category Three is the most dangerous and occurs when water is "grossly contaminated." It requires removing all affected materials, such as insulation, flooring, carpets, and cushions – an expensive and time-consuming process.
Don't let this happen to you. With a plumbing maintenance plan, you can spot the signs that lead to water damage – before they become emergencies.
4. Our maintenance plans will protect your family
Water damage won't just damage the structural integrity of your home. It will affect the health of you and your loved ones, too. Mold and mildew begin to grow within 24 to 48 hours of your home, suffering water damage, and exposure to these can lead to upper respiratory tract symptoms, cough, and wheeze. Susceptibility to fungal infections is greater for those with immune suppression or underlying lung problems.
Most distressing of all is the effect these illnesses may have on children. With their immune systems being less developed, exposure to mould and mildew is more likely to harm children's breathing and cause severe skin irritations.
A maintenance plan will help you avoid these worst-case scenarios by identifying and resolving plumbing issues before they cause harmful mould and mildew buildups.
5. Our maintenance plans will give you peace of mind
Your plumbing systems need a maintenance plan. Don't wait any longer to speak with one of our agents about signing up for one. Our well-trained and professional staff would be more than happy to help you feel confident again in your home.
To learn more about the benefits of plumbing maintenance plans in Toronto, call Drain King Plumbers today at 1 833-983-5663 or contact us here.