Preparing Your Plumbing System for the Summer
Posted by Jason Genah on 10-04-2019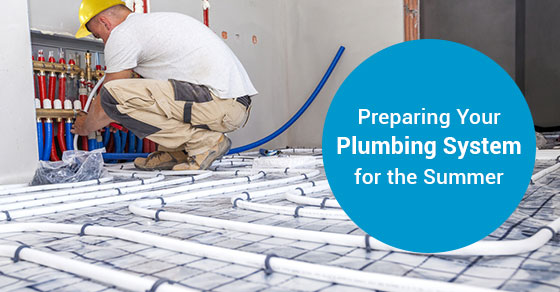 As we approach the summer months, the warmer temperature can cause problems for your plumbing system. That's why this is a good time to prepare your pipes for a change in weather, and also to check for deficiencies that may have occurred over the winter. Regularly checking for leaks and drainage issues is key in maintaining your plumbing system, not to mention the money you'll save in costly repairs over the long-run.
If you'd like to learn more about preparing your pipes for the summer, read our list of handy tips to help you get started!
Watch for Signs of Flooding
Rain is a serious concern during the summer. Severe rainstorms can cause major flooding. A backed up sewer line can create a lot of damage to your pipes, so keep an eye out for signs of overflow. If you smell a foul odour or see sewage coming up the drains in your tub, call a plumber right away. Never attempt to deal with a sewage backup on your own; call a plumber right away. Meanwhile, it's best to stay proactive and prevent flooding in the first place. Drain King Plumbers offers installations for sump pumps and backwater valves to protect your home.
Fix Burst Pipes
During the winter, freezing conditions and fluctuating temperatures can cause pipes to burst. That's why the summer months are a good time to check for leaks and have your pipes repaired. Inspect all of your outdoor pipes for cracks and rust. Burst pipes should always be handled by a professional. If not addressed immediately, they could cause further damage to your floors, walls, and furniture. Burst pipes can even compromise the structural integrity of your home. Drain King Plumbers provides emergency repair services 24/7 for residential and commercial clients in the GTA.
Clean Gutters and Downspouts
Clean gutters are key to maintaining a good plumbing system. During the fall and winter, a lot of leaves and debris will have accumulated. Make sure there are no blockages cluttering your gutters.
After cleaning, test your downspouts. Place a hose into the downspout from the top opening where the gutters feed into it. Have someone turn on the water and help you check the downspout flow. If it's clogged, you must clear it out. Pack the downspout opening around the hose with a rag, making a tight seal. Turn the water spigot wide open to create as much pressure as possible. Watch the end of the downspout for the blockage to clear.
Check Your Hot Water Tank
Many homeowners tend to forget about their hot water tank until they have no hot water. Ensure you have hot water year-round by inspecting your tank. Look for signs of rust or corrosion, and check underneath for signs of leaking. The maximum lifespan of today's hot water tanks is about 10–15 years. Maximize its use by having yours inspected regularly throughout the year. Drain King Plumbers offers installation and maintenance services. A new hot water tank can help you save on energy bills and increase your property value, too.
Test Your Sump Pump
At the beginning of summer, test your sump pump. Make sure it's turned on, then pour in a bucket of water. If working properly, it should pump the water out. Many new homes in the GTA have a sump pump installed during the building process. But if your property is without one, consider having one put in. Sump pump installation is relatively affordable, and it's a necessary investment to protect your home from flood damage.
Call Drain King Plumbers for a Routine Inspection
These important tasks can help you prepare your plumbing system for the summer. But for a thorough inspection, call the professionals at Drain King Plumbers. Although you may be able to prevent certain plumbing issues yourself, there are many jobs that require an expert skill. From drain cleaning to new fixture installations, our highly-qualified team can take care of all your plumbing needs.
Routine maintenance can ensure everything is running efficiently. A good plumbing system will not only raise your property value, but will keep your family safe and happy during the summer months. So see for yourself why Drain King Plumbers is the most trusted source for plumbing services in the GTA.
For more information on preparing your plumbing system for the summer, call Drain King Plumbers at 1-833-983-5301 or contact us here.