Ontario's Biggest Plumbing Rebates of 2021
Posted by Drain King Plumbers on 15-11-2021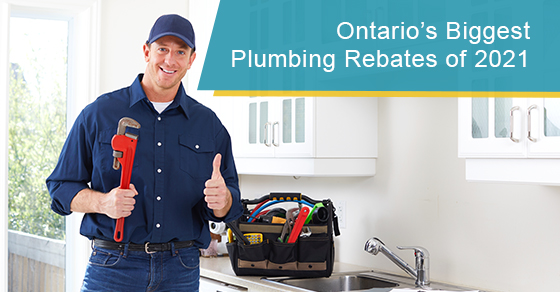 Enbridge Gas Inc. is offering several rebates as part of its Home Efficiency Rebate program. They include:
With the purchase of two other items, you will receive a $250 discount on your furnace
Boilers: Upgrade to a high-efficiency condensing natural gas boiler for $1,000
Water heaters: $400 to switch to an ENERGY STAR® Natural Gas Water Heater
Thermostats: $75 for switching to smart thermostats
Rebates for Multifamily Housing
The Enbridge affordable multi-family housing program offers rebates of up to $200,000 for affordable housing owners. In addition to the rebates for energy-efficient HVAC units like boilers and water heaters, there are other incentives as well. Offers valid through November 30, 2021.
Energy assessment: $8,000 for an energy consumption assessment
Boilers: Prices range from $1,200 to $9,000 for a condensing boiler or high-efficiency boiler
Furnaces: $400 for a condensing furnace unit
Water heaters: $900 to $1,250 for condensing storage or tankless heaters
Low-flow showerheads: free in eligible units or $12.50 for each low-flow showerhead
Program on Ontario Renovates
Several municipalities in Ontario provide forgivable loans and grants through Ontario Renovates. This program focuses mostly on low and moderate income homeowners, seniors and disabled people. The program funds energy efficiency upgrades, accessibility repairs, safety upgrades for residential properties and plumbing repair services in Ontario.
These upgrades typically include:
Upgrades to electrical, plumbing, septic, and well systems
Installation of bath lifts and chairs
Toilet upgrades to dual-flush and low-flush
City/Region Residential Rebates
Each city, municipality, or county offers different terms, conditions, eligibility requirements, and loan amounts. Most regions have not yet announced the closing date. Ontario Renovates provides benefits for homeowners in these areas:
Brantford: Forgivable loans of up to $20,000, homeowners who meet income and property values criteria are available.
Chatham-Kent: Up to $30,000 are being offered by the municipality.
Huron County: Households with low- to moderate incomes may be eligible for a $5,000 grant or a $10,000 forgivable loan.
Nipissing District: Households with low and moderate-income are eligible for up to $25,000 in assistance.
Kingston offers a similar program called Kingston-Frontenac Renovates. Program participants can get a $5,000 loan or a $10,000 interest-free loan, and the funds can also be used to pay for furnace upgrades, emergency repairs, and mould removal.
Leeds Grenville: Forgivable loans up to $15,000 are available.
Simcoe County: The County of Simcoe offers homeowners up to $15,000 for repairs, which can also be used for urgent repairs.
Toronto homeowners can apply for a low-interest loan up to $75,000 through the City of Toronto's Home Energy Loan Program (HELP).
With the funds, owners can:
Consider installing high-efficiency heaters, furnaces, air conditioners, and boilers
Remove and replace toilets and other plumbing fixtures
Toronto: A home energy audit with a rebate of up to $100 is part of RBCs Energy Saver Loan program, or you can get an interest rate discount of 1 percent on energy-efficient new products or services.
Commercial Rebates
With Enbridge's commercial custom retrofit program, you can also save up to $50,000 on energy-efficient boilers and water heaters.
What other ways are there to save water?
Instead of flushing tissues and trash down the toilet, place them in a wastebasket.
Toilets need regular maintenance to run smoothly. A flapper needs to be replaced if black goo is found on your hand after touching it.
Shop for high-efficiency toilets, landscape irrigation services, irrigation control technologies, showerheads, and more with the EPA's new WaterSense® label!
If you do not already have one, install a rain sensor for your irrigation system. If you wish to save the most water, this is probably the easiest thing to do-even easier than replacing your toilet!
Inspect your tank for leaks by putting some coloured liquid in it (such as coffee or tea) and waiting ten minutes. You should immediately repair a leak if colour starts to appear in the bowl without flushing it.
Ways to Maximize Your Toilet Rebates & Save Money
You want nothing worse than to have your toilet rebate application denied after you've spent time and money replacing your old toilets.
These programs were created by communities to help support water conservation and the preservation of the environment. These rebates are meant to encourage homeowners to make changes that help the environment at little-to-no cost.
When applying for a toilet rebate program, remember these handy tips:
Please read the instructions carefully.
Review all terms and conditions, as well as the eligibility requirements. If you miss one step, you may not get a refund.
All toilets, new toilets, and your home must meet all requirements
The old toilet, the new toilet, and the house you own must meet all the eligibility criteria. In addition to the toilet's capacity, your house also has to meet certain criteria, most commonly, the year it was built. Look up your home's sale documents or municipal records for building permits if you do not know.
Do Your Homework
It's hard to find a toilet that will be approved in most programs, so look around and find one you're sure will be accepted. You should usually look for a WaterSense® label. You can also find information about low-flush toilets at many other sites. Check out these independent test results of low-consumption bathrooms or speak with your local plumber or home renovation retailer.
Make sure you keep all your documents and make copies of them. The records you send to some programs must be originals; some will mail them back; others won't. You may be able to send copies, so read the guidelines carefully and make sure you submit the right document.
Installing the toilet yourself will save you some more money but be very careful since an installation that is not done properly can leak and cause all kinds of problems.
If you're experiencing plumbing problems, the best idea is to call a plumbing professional.
For more information about clogged drains, call Drain King Plumbers at 833-983-5663 or click here to contact us.