Mississauga's Backwater Valve Rebate Explained
Posted by Drain King Plumbers on 10-08-2022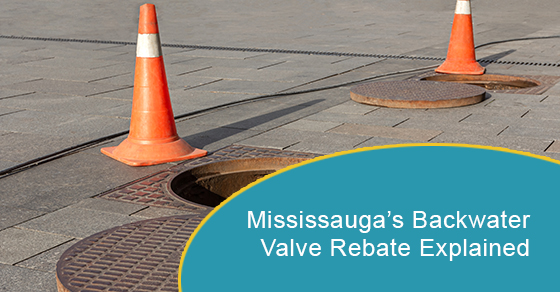 The City of Mississauga has experienced intense rainstorms over the past few years that are becoming more common due to climate change.
During these downpours, property owners have seen their basements flooded with standing water caused by sewer backup or penetration from foundation walls.
The common solution to resolving the problem of constant downpours and floods is installing a backwater valve. Backwater valves are specifically designed to stop excess water from flowing into the house and causing water damage.
What is a backwater valve, and how does it work?

A backwater valve is a device installed on the main sewer line leading from your house to the municipal sewer system. It allows sewage to flow out of your house, but not back in.
It is often confused with the term "backflow valve," which helps protect your home from sewage contamination, but it's also essential to ensure that clean water reaches all parts of the city.
The backwater valve is a great way to prevent sewage from flowing into your home. It consists of a single valve with a flap or gate that opens when water flows down the sewer pipe and closes when water tries to flow back up the pipe.
That way, water can't enter your house through the sewer line during a heavy rainstorm or when the municipal sewer system is overloaded.
Why do I need a backwater valve?

The Region of Peel consists of three municipalities: Brampton and Mississauga, as well as Caledon.
Backwater valves might not always be appropriate for all homes and whether you should install one depends on a few factors, such as how your home is built and whether or not your location reports downpours regularly in your region.
If you live in an area that's prone to flooding and your home qualifies, a backwater valve can protect your home from sewage backup and water damage to your basement.
Where are backwater valves installed?

Backwater valves are installed on the main sewer line, which is the pipe that carries sewage from your house to the municipal sewer system. The valve is usually installed where the sewer line meets the foundation of your house or where it exits the house.
The Backwater Valve Rebate, Explained

If you want to save money on your water bills, then a backwater valve could be the perfect solution.
Many people don't know what they do or how it works, but when installed correctly can really help reduce costs for those who have them!
The Region of Peel has been working hard to help homeowners who are determined not to have their basements flooded.
After seeing a rise in basement floods due to heavy rainstorms in recent years, they have decided to implement the "Sanitary Backwater Valve Rebate Program," which offers rebates on products such as backwater valves that reduce or prevent this type of damage to homeowners.
Thanks to this program, homeowners in Mississauga can get up to $700 for installing a backwater valve as an added protection against flooding and prevent damage in the future.
How can you qualify for the backwater valve rebate program in Mississauga?

The Sanitary Backwater Valve Rebate Program provides financial assistance to homeowners who have been victims of flooding. If you are not sure if you are eligible for the backwater valve rebate program, you can check the list below to see the requirements for qualification:
You must be a resident of Mississauga
To the Region of Peel, you have reported basement flooding as a result of rainstorms.
You show documentation of an insurance claim related to flooding (such as a "Experience Letter") or your home is in a flood-prone area (according to Peel Region records).
You have not used previous basement flooding removal programs from the Region of Peel to get a rebate.
If you have not had any damage and would like to check if you can still qualify, you can contact the region of peel directly.
How to Apply for the Backwater Valve Rebate Program

If you believe that you are eligible for the backwater valve rebate program, you can apply by filling out an application form and sending it in along with supporting documentation to the region of peel.
You will need to provide:
Your contact information
The location of your property
A description of the basement flooding damage
Proof of residency in Mississauga (Driver's License, passport, or utility bill)
Documentation of the insurance claim related to the flood (such as an "Experience Letter") or confirmation that your home is in a flood-prone area from the Region of Peel.
Once your application has been received, someone from the region will contact you to set up an appointment for a home visit.
During the home visit, a licensed contractor will need to install the backwater valve in order to receive the rebate.
The Backwater Valve Rebate Program is just one of the ways that the Region of Peel is working to protect homeowners from basement flooding. You can visit their website or contact them directly for more information on this and other programs.
Contact Drain King for Your Backwater Valve Installation

Backwater valves can help you save thousands of dollars in water damage to your home if when installed properly.
If you're in Mississauga and need a backwater valve installed, give us a call today for a free quote.
Drain King specializes in backwater valve installation and offers a wide range of plumbing services to keep your home or business running smoothly.
Contact one of our specialists today at (833)-983-5663 or email us at [email protected] for an estimate today!