Save Money With the FDC Sump Pump Subsidy
Posted by Drain King Plumbers on 13-06-2022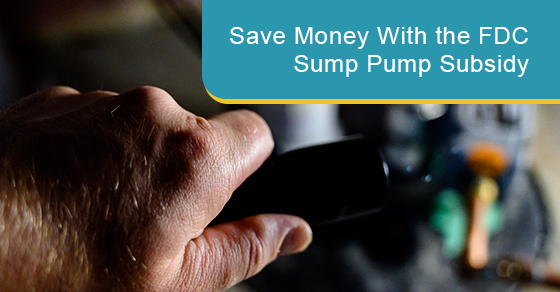 The City of Mississauga has created the Foundation Drain Collector Sump Pump Subsidy program to safeguard against basement flooding from rainfall.
Similar to the previous Backwater Valve Rebate, homeowners can receive funds to cover the sump pump installation cost.
This bid into protecting basements against floods covers 100 percent of the cost, up to $6000 per household. City residents who live on streets serviced by the municipal Foundation Drain Collector (FDC) System can receive the funds.
However, if you'd like to receive the fund after an installation, be sure to check who's doing the installation. The City of Mississauga doesn't employ or authorize third-party companies to install sump pumps for them.
Be especially wary of door-to-door salespeople or plumbers claiming they work on behalf of the city.
Keep reading to find out how you can claim your rebate.
Are you eligible for the FDC subsidy fund?
The City of Mississauga has a list of requirements, and we've summarized them below for you. You must check off all the boxes in order to be eligible.
Your property is located on a street serviced by the FDC system (see below*), and your sump pump was installed on or after January 1, 2008.
The plumber that installed your sump pump was licensed in Ontario with a City of Mississauga Business License.**
You have read and agreed to the terms and conditions on the application form for subsidy funding.
You've attached an original invoice/receipt(s) for the full cost of the sump pump installation to your application.
Look at your receipt/invoice once you've checked off all the boxes above. Note that receipts or invoices without the following information will be denied:
Address of where the sump pump was installed
The business license number and name of your plumber/contractor
A cost breakdown of all the charges and the total amount paid
An indication from the plumber/contractor that you paid in full
*Check out this map provided by The City of Mississauga to see if your property is on a street serviced by the FDC system. It highlights the approximate extent of the FDC system. You can also confirm by calling 311 or 905-615-4311 if you're outside of the city limits.
**Performing plumbing services without proper licensing and permits is illegal. Check to see if your plumber is licensed by The City of Mississauga by calling the numbers above.
How do I apply?
The application process is pretty straightforward, but we wanted to highlight a few key points. Print your application form, and you'll be ready to start.
Fill Out and Sign the Sump Pump Subsidy Program Application
This is a PDF document, so we recommend filling out the information online (use a PDF editor like Adobe Acrobat) and signing by hand once printed.
Who wants their application returned because city employees are having trouble reading your handwriting?
Keep your invoice/receipt(s) handy, as you'll have to refer to them to answer certain questions.
Section 5 is all about plumber/contractor information. If one of our plumbers did your installation, give us a call, and we'll give you all the required information.
Read the Terms and Conditions Page Carefully
We know that the terms and conditions page is barely looked at most of the time. Who hasn't just "skimmed and agreed" for something they signed up for online?
Everyone is probably guilty of doing this at least once, but this one is important.
Go over each point carefully, so you know what you agree to. There are only 26 points, and they aren't too technical, but contact a lawyer or plumber for some more clarity if you're unsure.
Mail Your Complete Application Form and Attach Invoice/Receipt
We can't stress the importance of adding your receipt enough. Your application will be denied without it, so make sure it's added before mailing it to the following address:
Foundation Drain Collector (FDC) Sump Pump Subsidy
City of Mississauga
Transportation and Works Department
201 City Centre Drive, Suite 800
Mississauga, ON L5B 2T4
Remember that original receipts or invoices will not be returned after your application is processed. Send the original to The City, and make a copy for your records if need be.
Time to Wait
All that's left to do is wait for your cheque to arrive. Applications are processed in the order they are received. It can be up to two months from this date before you receive your payment. You'll be notified by mail whether you're approved or denied.
Sump Pump FAQs
If you own property on a street in the FDC system and don't have a sump pump, there's never been a better opportunity to get one!
We answered some of the questions you must likely have below, but check out our sump pump page for more information.
What is a sump pump?
It is a submersible pump that directs stormwater away from your basement to the closest municipal storm drain or detention pond.
How long do they last?
We'd say they last for about five years on average. Scheduled maintenance and inspections are the best way to extend the lifespan of a sump pump.
Who needs a sump pump in their home?
Essentially, anyone who could experience basement flooding or has experienced it in the past needs one. It is especially crucial for anyone living in low-lying areas.
Will the cost of installation from Drain King Plumbers be covered by the subsidy?
The average cost to supply and install a sump pump is $1200. The subsidy covers up to $6000, so no issues here!
Get Your Sump Pump Rebate
Ready to get your sump pump installed? If so, contact Drain King Plumbers for a professional plumber in Mississauga. It's not every day that The City of Mississauga gives you money back for plumbing work, so don't miss out!
Call us at 833-983-5663 for more information, or click here to send us an email.