8 Tips From a Professional Plumber for Avoiding a Thanksgiving Emergency
Posted by Drain King Plumbers on 21-09-2022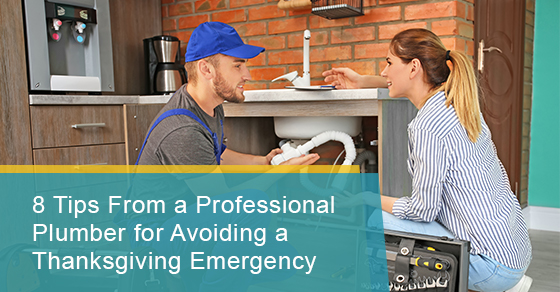 The time for cool weather and pumpkin pie is fast approaching. That means football, sweaters, and Thanksgiving dinner. For a plumber in Etobicoke, it also means remaining diligently on call for post-Thanksgiving emergencies.
Thanksgiving is a surprisingly busy time for plumbers. Homes encounter high visitor traffic, an abundance of food, and garbage and compost confusion. From the kitchen to the bathrooms, Thanksgiving dinners give your home plumbing a run for its money.
As a leading plumbing service in Etobicoke, Drain King Plumbers know better than most the potential plumbing emergencies that Thanksgiving has conjured.
Here, we'll talk about eight of our top tips to avoid these kinds of disasters and what to do if trouble occurs.
1. Set out designated trash and scraps containers

One of the biggest issues we see during the Thanksgiving holiday in Ontario is food blocking the garbage disposal. What's worse is food blocking the kitchen sink when you don't have a garbage disposal. Either way, a sure fix is to have designated areas for garbage, recycling, and organics.
Thanksgiving is one time of year when it's best to use compost or organic recycling bin, even if you have a garbage disposal for food scraps.
It keeps things that shouldn't be in the disposal out, and clears your sink for other tasks, like rinsing the dishes.
2. Make a sign for the disposal

If you do use your disposal, make a list so guests know to avoid putting the following food items into the disposal:
Turkey bones (or any other bones)
Fat or grease
Gravy
Onion and potato skins
Eggshells
Coffee grounds
Uncooked grains
Leave a note to run hot water while using the garbage disposal in order to ensure everything is washed away properly. When guests leave, grind lemon peel in the disposal to avoid bad smells.
3. Install a sink filter in the kitchen

Keep your sink clear from blockages by installing a sink filter. Sink filters are small metal baskets that insert into the drain. They keep bits of food from flowing into your drain when you rinse dishes.
This also eliminates the possibility of food chunks getting lodged in the sink if someone assumes you have a garbage disposal.
4. Pre-clean the bathroom for guests

Bathrooms are plumbing emergency central in most homes. Prepping for guests reduces the risk of toilets backing up and showers getting blocked. To minimize these risks, clean your bathroom, so the drains are clear.
Showers are problematic during guest visits. Hair flows down into the drain blocking it from draining. You can't stop your guests from showering, but you can clean the drains of hair and debris before they arrive. Starting with a clear drain is the best way to keep it that way.
5. Install trash bins in every bathroom

A bathroom without a trash bin is just asking people to flush unwanted items down the toilet. From sanitary products to cotton swabs, you can be sure that your guests will keep every plumber in Etobicoke busy unclogging toilets.
A small trash bin in each bathroom also makes for easy garbage sorting later. Guests are unlikely to bring food and other compostable or recyclable products into the bathroom. So, it's typically only waste that you'll be bagging at the end of the visit.
6. Check the water heater

If you live in a home where the hot water gets really hot, you can adjust temperatures by turning the dial on the heater. You may like extremely hot water, but if your guests aren't prepared, then somebody could get burned.
Hot water shouldn't run above 120 degrees Fahrenheit or 48.8 degrees Celsius. Anything more than this and you're asking for a trip to the emergency room during your holiday, especially if young children are visiting.
If you don't change the temperature, put up a sign near the faucets explaining that hot water is very hot. This will dissuade guests from running hot water on full blast without the accompaniment of cold water.
7. Designate a bathroom

Having multiple bathrooms is a blessing unless many visitors are involved. More bathrooms equate to more potential plumbing problems. Designate a guest washroom during your Thanksgiving activities to keep your other bathrooms clear of disaster.
Only worrying about one toilet, one shower, one tub, etc., also means less cleaning up after the company leaves. If you don't have guests staying overnight, the nearest bathroom on the main level is best for this role.
If you have guests who need to shower and freshen up during a multi-day stay, an upstairs washroom is best.
Hang a sign on other bathroom doors directing guests to the designated washroom. Or, you can keep guests out of undesignated bathrooms by locking the doors from the inside and closing them. Just be sure that you have a way to get back in after they leave.
8. Schedule a home maintenance checkup with your plumber

There are many steps to minimize potential Thanksgiving plumbing emergencies. The best thing you can do is have your home assessed by a plumber before the company arrives. Scheduling a home inspection ensures:
Pipes are clear
No leaks
No cracks in pipes or fixtures
Water pressure is stable
Hot water is at a safe and comfortable temperature
A plumber will also make suggestions based on your home and individual needs for plumbing safety. There might be things you haven't thought about that could be impacted by visitors, including your dishwasher and clothes washer.
Anything connected to your home water supply is a potential plumbing emergency when large groups are involved.
Contact Drain King Plumbers Today

If you live in the GTA and are hoping for a stress-free Thanksgiving holiday, we want to help.
Our team of experienced plumbers are well versed in all things Etobicoke-related. We work with families across the city, and we know the exact things to look out for before a big event.
Whether you've got family coming for dinner, or for the entire Thanksgiving weekend, we've got your back. Call Drain King Plumbers at 1-416-661-5464 or visit us online.