5 Ways to Prepare Your Plumbing System for Winter
Posted by Jason Genah on 11-11-2019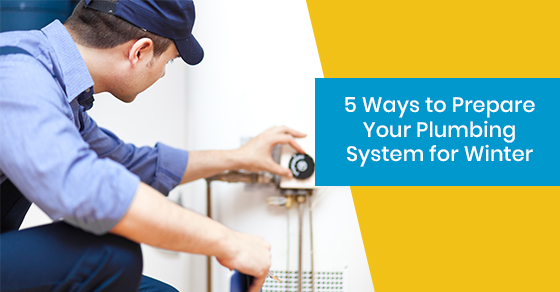 Winters in Canada are notoriously brutal and unpredictable, with rain, snow, and sub-zero temperatures the norm. Making sure your home is ready for winter is important. A sudden cold snap has the potential to lead to a frozen or burst pipe and costly damage. Below are some things to think about when preparing your home for winter.
1. Winterize the faucets
Your outdoor faucets are exposed to the elements year-round, so you need to protect them, especially in the winter. Before snow hits, it is crucial to turn off and drain your garden hose, cover the hose bibs, and shut off the water to your outdoor faucets. Doing so will ensure that they are not damaged by water expanding as it freezes.
It is always recommended to talk to a professional about different options if you are not sure how to safely secure your outdoor faucets.
2. Check for exposed pipes
Frozen pipes are one of the biggest threats that people face in their home during the winter months. Insulating any exposed water pipes in unheated areas of your property can help to protect you. Check all unheated areas of your home for exposed pipes and make a list for a professional so they can ensure they properly insulate them. It's also a good idea to ask about insulating other areas of your home — like your garage door — to keep unprotected areas safe.
3. Inspect your furnace
Your furnace is an important part of preparing your plumbing system for winter because if your furnace fails, your pipes are at risk for freezing and bursting as the temperature drops. While preparing for winter, make sure your furnace is working correctly by having a professional come in to service it.
4. Service the water heater
While you have a professional inspect your furnace, you might as well take the opportunity to have them make sure your water heater is working too. Before winter, drain your water heater and have a maintenance check performed.
5. Prepare for when you're away
Whether you have winter travel plans or are just going to be at work, make sure you don't come home to a surprise burst pipe. Installing a Wi-Fi thermostat lets you control and monitor your home's temperature using your smartphone. For longer trips, you can either shut off the water to your home and drain your pipes, or leave the water on and keep the thermostat set high enough to prevent freezing. A burst pipe when no one is home can lead to severe and costly damage, so make sure this doesn't happen to you!
Though some of the tips stated above are things you can do yourself, it's always smart to hire a professional team to help you do it right.
To learn more about how to get your plumbing system ready for the winter, call Drain King Plumbers 416-661-5464 or contact us here.