5 Signs You Need to Replace Your Sink
Posted by Drain King Plumbers on 11-04-2022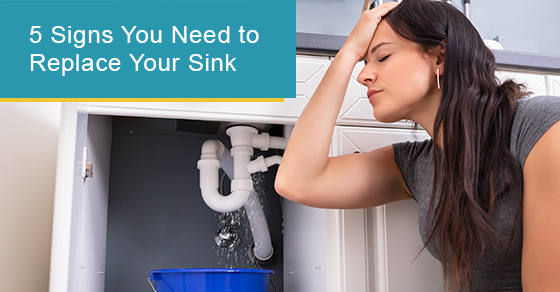 Have you been thinking of replacing your bathroom or kitchen sink, but aren't entirely sure? Drain King Plumbers have got you covered. You might be noticing visible signs of wear and tear to your sink, and maybe considering a replacement. If so, we're here to walk you through a complete checklist of what you need to do to get to the bottom of the problem.
1. Physical damage
If there is severe damage to the sink in your bathroom or kitchen, it will need to be replaced, or, given a thorough inspection by a plumber. Physical damages can include (but aren't limited to) hairline cracks in the sink, mould, or other sanitary concerns.
Hairline cracks are often looked past, as they aren't expected to lead to larger issues. However, any crack, no matter how small, can lead to water seeping into the porcelain of your sink, creating leaks, and damaging the sink internally.
Over time, if the cracks in your sink aren't dealt with, they're eventually going to weaken the material of your washbasin, which can lead to accidents. If the water seeps into the hairline cracks of your sink, it will eventually reach the floor of your kitchen or bathroom and, once again, lead to slips, falls, and other injuries.
2. Rusty taps
Rust is every homeowner's worst enemy. Not only is it unsanitary, but it can contaminate your tap water, inviting germs, bacteria, and other diseases. Additionally, the rust compromises the pipes in your drainage system tremendously.
What would ideally be an annual inspection now turns into a regular one. If rusty taps are left untreated, you're looking at costly plumbing repairs down the road. If the rust is beginning to develop in the pipes, a complete replacement of the sink could be required. This is why we recommend calling a plumbing professional like those at Drain King Plumbers as soon as possible so you can save money, and future inconvenience.
3. Reduced water volume
If your faucet has a decreased flow of water or is merely trickling water down your sink or washbasin, it is a sure sign it needs to be replaced. Yes, the faucet could be faulty, but in most cases, the problem usually stems from decaying old pipes or faulty pipes.
4. Sink drainage issues
Does your sink keep backing up or take time to drain water out? If so, it simply means that the drainage system for the sink is clogged with hair and other debris. If Drain King Plumbers visit your house for an inspection of your kitchen or bathroom sink, they'll be more than happy to recommend an affordable, efficient, and convenient solution to your problem.
This could entail cleaning or changing the pipes of your sink, or a complete replacement. Regardless, you can be well assured that our plumbers will be here to guide you, and ensure a seamless process.
5. Mould growth
Not only is mould unsanitary for your home, but it is also dangerous for your health, leading to allergies and other infections as it grows in or around your sink. If mould isn't treated immediately, it will begin to grow inside air vents and walls. If left untreated, a health hazard like the growth of mould can become extremely contagious.
Sometimes annual inspections aren't enough to treat these problems, it can be the design of your sink that contributes to unsanitary and unsafe conditions. If your sink or washbasin continues to overflow, then getting the pipes looked at would be a great place to start.
Looking to sell your home?
Did you know that a good property is demonstrated in the maintenance of its washroom and kitchen? If your house is on the market, you should have a thorough look at your washroom, kitchen, and, particularly, the sink.
Upgrading your washroom and kitchen sink to a modern finish, with technology that supports home living with ease, increases the value of your property. Potential buyers will analyze the kitchen and washroom before making a call. So, if the appliances in your washroom are slightly outdated, there are several ways to fix that issue.
Need more room?
If you are constantly trying to work around your washroom, but bump into appliances or corners, it might be time to look at spacious solutions for your bathroom. This is necessary, especially when you have elderly people or children in your home who could benefit from friendlier upgrades for your washroom.
A wider sink with a sidebar or handle is necessary for the elderly in your home. The sidebar or handle is a great safety measure to prevent slips, falls, and other injuries.
The children may require a shorter sink next to the adult-sized sink. This is a great preventative measure so the child doesn't try to reach for cabinets, appliances, or objects that are beyond their reach. Doing this could lead to injuries when the child stands on a stool to brush their teeth. The right alternative would be to install a shorter and smaller sink that is convenient for them.
Are you ready for a new look?
While the above-mentioned criteria are necessary when inspecting your kitchen or bathroom sink, sometimes, all you require is a fresher look. At Drain King Plumbers, we are determined to bring your vision to life. What might seem tumultuous and tedious to you is what we consider our priority.
If you're all set to bring your ideal bathroom and kitchen to life, we're available for you with our plumbing and maintenance services in Toronto 24 hours a day and 7 days a week. At no additional charge on holidays and weekends, Drain King Plumbers is ready to fix what needs fixing in your home. Call us at 833-983-5663 or contact us online.