What to Look for When Hiring a Commercial Plumbing Repair Service
Posted by Jason Genah on 04-09-2019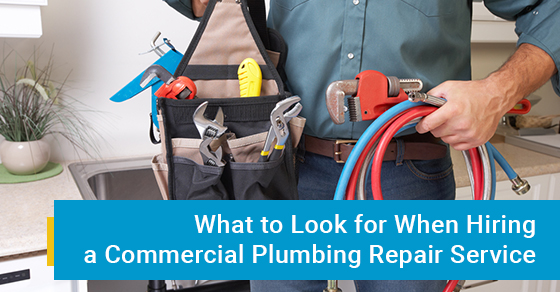 Deciding on which commercial plumbing repair service company to go with can be a daunting task, as most claim to be the best at what they do. However, not all commercial plumbing repair service companies are created equal. You will want to perform the necessary due diligence to determine which company to hire. Here, we will discuss what you should look for when hiring a commercial plumbing repair service company so that you make the right choice the first time.
Experience is King
The first thing you should look for is the number of years of experience that the plumbing company has. Newer companies tend to lack the knowledge needed to tackle the most complicated problems, and they may not have a track record that inspires confidence.
It should also be noted that companies with several years, if not decades, of experience, have been in business for so long for a reason. That is, they have a proven track record of excellent customer service and offer certified warranties on their services. They also usually provide their customers with customized services that will last for several decades, which will invariably save you more money and time over the long run.
They Must Provide the Proper Insurance and Licensing
Another crucial factor to look into is whether or not the company you are thinking of hiring has the proper working permit needed to work in the province. If they are unable to provide you with the appropriate license, then you should avoid hiring them at all costs. Having a license proves that the company has met the minimum standards required to provide their services in the region.
Furthermore, they must also be fully licensed, insured, and bonded to ensure that your property and their workers will be protected. They should, at the very least, provide worker's compensation and liability insurance to protect all parties involved comprehensively.
Ask for Referrals
Ask your family, co-workers, and friends if they can recommend a plumbing repair company in the area, as they are more likely to provide you with an honest review. This is unlike many online reviews, usually written by people who work for the company or have been paid to write fake glowing reviews.
Qualifications Matter…
We highly doubt that you would hire a person with rudimentary skills in dealing with drainage and water supply systems to rectify your plumbing issues. As such, it is highly advisable only to hire someone who has the experience and qualifications to handle complex plumbing issues.
If in doubt, ask the prospective company to show you their qualification certificates, and do not hesitate to perform a background check on the company. Furthermore, ensure that they have passed all required tests and that they have undergone the formal vocational training that is relevant to the task at hand.
So Does Reputation
We would also suggest that you look into the reputation of the company you are thinking of hiring. The best plumbing repair companies will provide excellent services to not only foster customer satisfaction but customer delight, as doing so will help maximize client retention.
The best companies will not hesitate to give you an accurate and honest quote so that you have a good ballpark figure to work with. You should also go through the official company website to have a better idea of the quality of the company. That is, look to see if the website is professionally designed and has a persuasive and well-written copy.
Also, check reviews of the company from impartial websites to gauge their reputation, such as the Better Business Bureau or watchdog websites that blacklist fraudulent plumbing companies and contractors.
Location, Location, Location
If we have not emphasized it enough, where the company you are thinking of hiring is situated is of the utmost importance. That is, the company should be in relative proximity to your property to simplify matters greatly.
To illustrate, if your property suddenly had a serious plumbing emergency, such as burst pipes, you will want to call a company that can get to your property quickly in order to limit the amount of damage. In the end, most customers want quick, reliable, and convenient service, and the plumbing repair industry is no exception to the rule.
Excellent Customer Care and Fair Pricing
If you are a property owner, then it is highly likely you will want to work with a commercial plumbing repair company that provides superb customer service with tact, integrity, and energy. Thus, the company that you choose must be available 24/7 to handle unexpected plumbing mishaps. They should be reachable via multiple sources, including phone numbers, emails, texts, or through their website.
In addition, they must be willing to provide you with a transparent and accurate quote regardless of the scope of the issue or project without exception. They must also be ready to give you a free, no-obligation consultation so that both parties can discuss the situation at hand.
As a result, you will be fully aware of the materials and equipment that will be needed to complete the project. Doing so will also help you build a cordial relationship with them that is built on a foundation of trust.
Drain King Plumbers
If you would like to learn more about our award-winning commercial plumbing repair services, then please visit our website or give us a call at 833-983-5301 for a free, no-obligation quote and consultation. Drain King Plumbers is a BBB accredited business that provides 24/7 emergency plumbing repairs, a free estimate on all parts and labour, and up to 25-year warranties on our services.