The Ultimate Summer Plumbing Maintenance Guide
Posted by Drain King Plumbers on 10-05-2023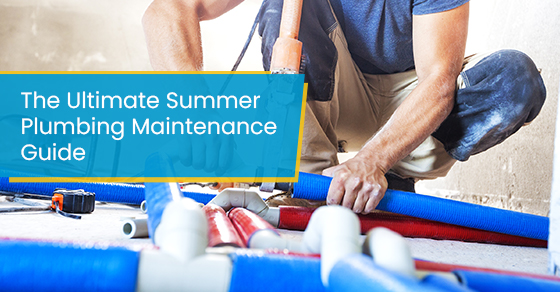 Everyone knows that winter can be a difficult season for your home, but the truth is that summer can pose challenges, too. Many people fail to consider that their home plumbing system gets a ton of use throughout the summer months, especially if they have a sizable garden to water or a swimming pool that they must maintain.
Like any system in your home, overuse can lead to faster wear and tear, meaning the summer season can do a significant number on your home's plumbing.
Regardless of whether you have a garden or a pool, it is always a good idea to give your plumbing system a thorough examination at the beginning of the season to ensure that everything is in working order.
This is also the perfect time to perform the necessary maintenance measures to keep your plumbing system in tip-top shape. That way, you can get through your summer without having to worry about facing stressful and expensive plumbing disasters.
The Most Important Aspects of Summer Plumbing Maintenance
The worst thing you can do is wait until a problem arises before checking on the status of your home plumbing system. Staying proactive is always a much better approach, and the perfect opportunity to see how it is doing is to follow some standard maintenance procedures before the summer starts.
The following are some of the most important inspection and maintenance measures that you should take to get your plumbing system ready for summer:
1. Inspect your hoses and sprinklers
If you have grass on your property, you will likely want to keep it well-watered this summer to keep it nice and green. If there are any issues with your hoses or sprinklers, though, that may be a challenge. That is why it is crucial to inspect your hoses and sprinklers ahead of time to ensure that they are functioning properly and do not have any leaks.
If you do find that there are problems with your hoses or sprinklers, it is best to replace them immediately. If you do not have a hose reel, you may want to consider investing in one, as it will help you store your hose properly, adding years to its life.
2. Inspect appliances that use water
We often forget that there are many appliances in our home that are connected to our plumbing system, including sinks, showers, washing machines, and the water heater. You should check all of these appliances to ensure that they are in working order and that there aren't any leaks, as water moisture could lead to mildew or mould, which can be dangerous for you and your pets.
If you do find any leaks, you may need to have some of your pipes replaced before the problem gets worse.
3. Check your toilets
Another major issue that you certainly do not want to face is a leak in one of your toilet bowls or its tank. The best way to check for this issue is to add a few drops of food dye to the water in the tank and then wait an hour and examine it again.
If you notice that any of the coloured water has found its way into the toilet bowl after this time, you have a leak in your system and should call professional plumbers in Toronto.
4. Clean your gutters
It is safe to say that you probably do not want to be standing on a ladder and observing your gutters up close during a bitingly cold winter morning or a rainy spring afternoon. But in the summer, there are no excuses!
After a few months of extreme weather, there could be some twigs and leaves that are clogging your gutters and downspouts. Cleaning them out at the beginning of the summer is a good idea if you want to avoid drainage issues down the line.
5. Drain your hot water tank
It is a good idea to drain your hot water tank at least once a year, and summer is possibly the best time to do this, as you probably will not have to use it nearly as much as you do in colder months. Over the months, sediment can build up in your water heater, which can cause all sorts of trouble if it is not cleared out.
Make sure that you thoroughly read the instructions in your water heater's manual before starting to take it apart. If you are worried about performing the procedure yourself, call licensed plumbers in Toronto.
6. Check and clear drain filters
You probably have filters in all of the drains in your home to ensure that things like food or hair do not clog them up. Another essential maintenance practice for your plumbing system is checking your drain filters. You need to clean them out to ensure that water can continue to flow freely down the drain.
7. Clean your shower head
If you have noticed the water pressure dropping when you take a shower, one of the best things you can do is to give the shower head a solid cleaning. This is something that should be done at least once a season so that you can have more enjoyable showers all year long.
The best way to clean the shower head is to remove it and soak it in a bucket of white vinegar for a few hours to get rid of any mineral deposits that may be clogging it up.
8. Schedule a plumbing inspection
To be extra certain that all is well with your home's plumbing system, it is best to contact plumbers in Toronto. They will be able to thoroughly inspect your plumbing system with eyes that are trained to recognize the types of issues you need to worry about.
This way, you can ensure that nothing has been missed, and you can receive some valuable advice about any repairs that may be necessary. In fact, in most situations, a plumber can do such repairs on the spot, and then you will not have to worry about doing them yourself or stress about whether you have done them correctly.
How Drain King Plumbers Can Help With Your Summer Plumbing Maintenance
If you come across a problem while performing some of the maintenance procedures mentioned above or you are seeking plumbers in Toronto to check out your home's plumbing system in advance of summer, Drain King Plumbers has a team of professionals with the skills and experience to help with any issues you may encounter.
We can help you avoid major plumbing emergencies by handling issues before they escalate. We are available 24 hours a day, 7 days a week, and we will always make solving your plumbing problems quickly and efficiently our top priority.
For more information about our plumbing system inspections or to learn more about our other plumbing services, call Drain King Plumbers at 833-983-5663 or contact us here.