Telltale Signs You Need a New Bathtub
Posted by Drain King Plumbers on 13-12-2021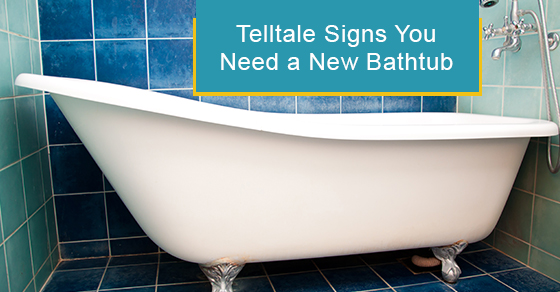 Long and relaxing baths have been the epitome of luxury for humanity for thousands of years. The soothing effect of warm water, especially when accompanied by soft music and candlelight, can affect you both physically and spiritually. This can help you to relax and feel refreshed. As the effects of a good bath are soothing and comforting (and for some people a necessary therapy), it's not surprising that bathtubs can be a huge selling point for a home.
To enjoy the luxury of a bathtub, however, it must be maintained by keeping it clean and functional. If there are problems, you will have to determine if you need to repair or replace your bathtub. The following are the telltale signs that may indicate it is time to consider a replacement.
Water Leaks
Once you've used the tub, inspect the bathroom floor. Does water appear to be pooling around the tub? In the bathroom, strange puddles on the floor usually indicate a leak. And although it seems insignificant, a leaky tub can become a major issue if neglected. Leaky tubs are not only create a dangerous slipping hazard, but they can also cause considerable water and structural damage to the home.
Chips and Cracks
Despite having durable materials, bathtubs deteriorate over time. It's time to start planning to replace your tub once cracks and chips begin to appear. Getting started with a bathroom update should be as simple as calling a remodeling contractor who can help you explore the different bathtub options and decide on one that is best for you.
Mould and Mildew
Whenever it can be observed, fungal growth is never a good sign. Unfortunately, old and leaking tubs are an ideal breeding ground for mould. Mould can be removed in small patches, but if your existing tub is heavily contaminated with it, you should consider replacing the tub right away. Mould can make you feel sick and even cause respiratory problems when breathed in for extended periods of time.
Discolourations and Stains
Although this issue isn't as severe, if you spend an hour every other week cleaning the discolouration off your bathtub, you should consider a prompt replacement. The first thing you should do is update your tub if you want to keep your bathroom pristine and stylish.
Difficulty in Using the Tub
When it comes to bath time, it's important to remember that it's supposed to bring pleasure and relaxation. However, you may want to consider an alternative to your bathtub if you have trouble getting in and out. It may be beneficial to get a walk-in bathtub so that you can regain your bathing independence and improve your bathroom's aesthetics at the same time.
You can customize your bathtub according to your unique needs. It may be possible for you to add ADA-compliant grab bars or whirlpool jets to increase your comfort and restore your strength.
Style Ideas for Tubs
Freestanding Tub
When you are used to walk-in showers, a freestanding tub feels like a throwback to the past. In addition to complementing your bathroom decor, this bathtub type makes a statement in terms of style by not being attached to the wall or placed in a corner. Adding a dimmer to your freestanding tub will improve your bath-time lighting. If you wish to relax in the evening, this is the perfect way to brighten the room.
Soaker Tub
You can't beat a soak in the tub at the end of a long day, and a soaker tub is the perfect bathroom upgrade. The deep design of soaker tubs prevents water from overflowing while you bathe. Contemporary and modern bathroom remodeling ideas can make use of these tubs, and they usually do not require significant changes to the plumbing in your home. The benefits of soaker tubs range from comfort and space to therapy. To make stepping into your soaker tub easier, consider adding steps and a grab bar.
Unique Bathtub Materials
Adding a distinctive bathtub material to your bathroom will make a statement. Some of the most common materials used to construct bathtubs are cast iron and acrylic. You can add a unique and fresh touch to your remodel with these options.
In addition to copper and wooden tub finishes, there are other options available for those who want to step out of their comfort zone. Consider any of these materials when remodeling your tub.
Combination Showers and Bathtubs
Your bathtub will become more enjoyable if you integrate it with a shower. Whenever possible, it is best to build the shower around the tub when building a bathtub and shower combination. By installing a seat in your shower or bathtub, you can relax and soak. As functional features, seats can be added to bathtubs and shower walls.
How do I choose a bathtub size?
We recommend getting a larger tub if you have the space and your home can support it. Freestanding and corner bathtubs can be purchased if you have the required space. If you have a limited amount of space, however, an alcove, drop-in, or soak tub may be more suitable for you.
Do Not Delay
No matter how small or large the leaks are in your bathroom, it's crucial that you take action as soon as you notice them. The biggest risk associated with leaving a leak unattended is toxic mould growing. Aside from its unsightly appearance, mould may also be a health hazard.
Indeed, there is evidence that mould may bring on respiratory illnesses and lead to headaches, lethargy, asthmatic symptoms, allergic reactions, and persistent chest symptoms. It can cause very serious health problems if you are exposed to it for an extended period of time.
Acting quickly can catch the leak before it causes extensive structural damage to your home. Water rot can erode beams and eventually cause them to become non-structural, which could spell disaster for your home. Leaks that are allowed to go too far and cause too much damage may require a lot more time and money to repair.
Perform Regular Checks
It is only possible to act quickly if you know there's a leak in your bathtub, which might not be the case if you take showers rather than baths and don't pay much attention to your environment. It's important, therefore, to conduct regular monthly inspections of your tub and bathroom. Try to locate the source of any drips or puddles that should not be there, and then either treat it yourself or hire someone who can.
Contact Drain King Plumbers if you have concerns about your aging bathtub or if you need a bathtub installation in Toronto.
For more information about bathtubs and other plumbing issues, call Drain King Plumbers at 833-983-5663 or click here to contact us.