Can a Backwater Valve Stop the Next Flood?
Posted by Drain King Plumbers on 26-08-2021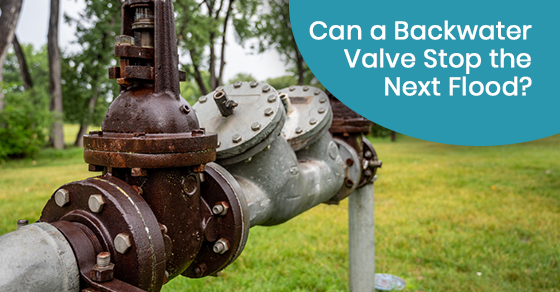 You may be at risk of a flood within your home during the next local storm. A flood alone can be a significant and expensive issue. But when the floodwaters contain sewage and other local debris, you may need to spend a prolonged period of time outside the home to safeguard your family. Installing a backwater valve in the property is the best next step you can take to prevent sewage flooding.
In this post, we'll explore how backwater valves work and the flood protection value they can bring to your Toronto home for the years ahead.
What is a backwater valve?
Sometimes called a backflow or sewage backup valve, a backwater valve is a component you can install within your plumbing system that ensures excess water flows out of your home. When the city lines become overwhelmed due to heavy rainfall, a backwater valve prevents sewage and other outside water from flowing back into your property after making its way outside to the sewers.
Within new properties, the cost to install a backwater valve can be relatively affordable – about $500. But it can be a little more expensive to install valves in older homes that require a retrofit project. Those with older homes may pay as much as $4000 or more to have a backwater valve installed. This price might seem high initially. But it's far lower than the amount you would pay to repair damage caused by sewage should foul water flood your home.
If the ground floor in your home is less than a foot above the street level, your property can be at an increased risk of flood, and so you may consider installing a backwater valve if you haven't already got one.
Why have a backwater valve?
A backwater valve can be of great use in a flooding emergency. If there is an excessive amount of water entering your home or basement due to city sewers overflowing, the valve can protect and block sewage water from doing damage. It's a good option as a backup plan in case your sump pump fails.
How does the backwater valve work?
So now we've discussed what the valve does to protect your home. Let's delve a little deeper into the mechanics of the valve and how it works.
A backwater valve prevents water or sewage from flowing into your home if the main sewer line is overloaded. It works via a small floatation device on either side of a flap. When the water or sewage starts to flow back towards a property, these floatation devices rise and cause the valve to shut, preventing the flow access to your home plumbing.
When water flow stops moving towards the home, gravity will cause the flap to fall back into the open position so that water and sewage can flow out of the property.
To install a backwater valve into an existing property, a Toronto plumber will cut a hole in the concrete floor near the foundation wall. They will dig into the main sewer line and cut a part of it out. Then replace it with a new valve.
Backwater Valve Maintenance Tips
Most valves work flawlessly with some maintenance. But you should note the warning signs of a potential issue and know when to call your local plumbers to protect the home. Use these tips if you're unsure about maintenance:
Check the Clear Top to Review Performance
The backwater valve has a clear top, allowing you visual access to the entire system. You should have a good look inside the valve to check for obstructions or other issues that impact performance. But before you access the area, ensure you're wearing gloves and eye protection. Sewage is toxic and may cause health issues if you get sewage-tainted water in your eyes or on the skin of your hands.
Remember to check the valve at least a few times per year to prevent a problem from causing lasting damage to your property.
Take Care During Storms
During local storms, your city's sewer system may back up. Water may try to enter your connected plumbing. But with a quality backwater valve in place, your home is protected. However, it's still critical for you to take care of your home's plumbing during a storm in which there's local flooding. If you notice that local streets have significant amounts of standing water, try to avoid using multiple appliances at once to prevent a flood in the home.
If you use your shower, dishwasher and washing machine simultaneously, you may not have the requisite capacity in your system to handle the water flow with a closed valve. The water may enter other areas of the property and flood your basement. So try to take care during periods of heavy rain and monitor your home appliance use closely.
Call an Expert
Don't try to repair any issues with the valve alone. Many homeowners make this mistake. And it often leads to thousands of dollars in damage to their property. Rather than cause so much damage, it's simpler to call a plumber and have an expert review the issue. They can then determine whether there's a simple fix or a more extensive repair required.
Questions to Consider When Speaking with Plumbers
When calling Toronto plumbers for flood protection and systems maintenance, consider the following questions:
1. Does the company have experience working with backwater valve systems?
Ensure that the company has a recognized history of dealing with backwater valve technology and can provide clear guidance about local rules and regulations regarding the installation and maintenance requirements.It's also worth noting if the company has proper licensing that will make customers eligible for municipal rebates and subsidies. For example, if you're considered eligible in Toronto the city will subsidise up to 80% of the cost (or a rebate of up to $1250). Call Drain King Plumbers at 416-661-5464 to learn more.
2. How soon can you arrive?
If your home has a potential flooding issue, there's no time to waste. Ensure the company can respond to your emergency with a quick and effective resolution.
3. What can I do to protect my belongings?
It may be an hour or two before the plumber arrives. Ask them what you can do in the meantime to protect your home. Do not touch flood-soaked items as the water could be contaminated and may cause health issues.
Listen to your local plumbers carefully before you make any decision.
Our team at Drain King Plumbers can help you install and maintain your backwater valves. We're available around the clock to answer your questions and provide clear flood protection guidance for your Toronto home.
To learn more about backwater valves and flood prevention, call Drain King Plumbers at 416-661-5464 or contact us here.