6 Common Plumbing Scams and How to Avoid Them
Posted by Drain King Plumbers on 08-06-2023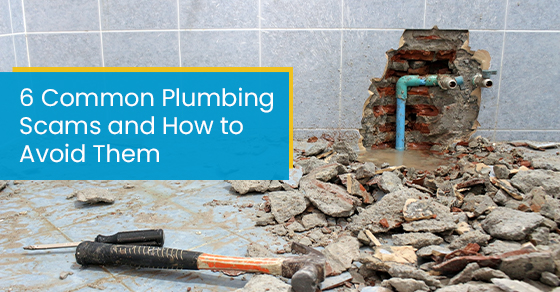 If you have ever tried to handle a plumbing problem in your house on your own, then you know that plumbing certainly is not easy work, as it requires both precision and knowledge. There are many good reasons why skilled and qualified plumbers are often paid well for their work—they must undergo vigorous training to get their licensing and invest a lot of money into their equipment.
However, there is also an increasing number of "plumbers" who are under-trained and still try to charge the same rates as those who are more qualified. They may even attempt plumbing scams by providing poor-quality work.
Not only do these plumbing scammers charge you much more than their services are usually worth, but they can also damage your plumbing system or offer only temporary fixes. For these reasons, it is necessary to be extra cautious and vigilant when choosing a plumber in Etobicoke to service your home.
What are currently the most common plumbing scams?
The thought of so many plumbing scammers out there can be rather scary. You may well be worried about how to tell whether you are hiring a scammer or someone who is legitimate.
Fortunately, you can typically avoid being taken advantage of if you familiarize yourself with the most common plumbing scams, as this will help you to spot them from a mile away.
The following are a few of the most typical plumbing scams that you should be on the lookout for if you ever require plumbing services for your home:
1. The bait-and-switch scam
This very common scam takes place when a plumber guarantees you that they will provide the best of the best when it comes to fixtures and other parts. In reality, though, they end up using inferior parts. This saves the plumber a lot of money, as they will still try to charge you the price of top-quality products and then pocket the difference.
In addition, you will have a false sense of confidence in your plumbing afterward, assuming you have top-quality parts installed when, in reality, you have cheap ones that will break down faster.
In some cases, plumbing scammers may also raise the costs that they charge you even when they are using quality parts. Thus, it is worth doing some background research into the standard prices of such parts.
2. The door-to-door scam
Another common scam involves people going door to door claiming to be plumbers and offering their services for a good deal. You can be certain that if someone is unexpectedly knocking on your door offering plumbing services, they are not legitimate, as professional plumbers do not need to go door to door to get work; they will wait for you to call when you need them.
In some cases, they may be trying to scam you out of money for illegitimate services, and occasionally, they may even be just trying to get into your house to rob you.
3. Too many plumbers showing up
If you have only hired a single plumber to work on your plumbing, but you noticed multiple people showing up at your house throughout the week without explaining why they are there, this may be a sign that you are getting scammed.
In some situations, one or more of those showing up at your property may be apprentices, or the plumber you hired may subcontract parts of the job to their family or friends. They then may try to charge you for multiple workers' hourly rates or claim that they have no control over what the others are charging, and you could end up paying much more than expected.
4. The golden spoon scam
If you live in a rather affluent neighbourhood, you may be at risk of getting charged significantly higher rates than the standard ones. Since plumbers are not required to have a fixed hourly rate, they can charge you however much they please.
If they see your house is full of modern technology, you have several cars in your driveway, and you have a hot tub in the backyard, they may assume you have deep pockets. They will then likely inflate the prices so you have to pay anywhere from 50 to 100 percent more for your services.
5. The constantly changing estimate scam
You should always be wary when a plumber is hesitant to give you a clear estimate about the cost of their services. Some plumbers promise to give you an estimate at some point and never follow up with one. Others may give an estimate over the phone, promising to put it in writing later on, which they then evade doing.
This is a shady way for plumbers to charge you anywhere from double to triple the amount you expected to pay for their plumbing work.
6. The cash-only scam
If you contract work from a plumber and they insist that they only accept cash payments or they refuse to provide an invoice or receipt, it is certainly a just cause for suspicion.
In some cases, they may be trying to avoid paying taxes. In other cases, however, they may be unlicensed or uninsured, meaning you are on the hook if they cause any damage to your house or if anything else goes wrong. Similarly, it is a bad warning sign if you request a plumber's services and they mention that they require a large cash down payment before doing any work.
Avoid Plumbing Scams and Get Reputable Services From Drain King Plumbers
If you require the services of a plumber in Etobicoke and are skeptical about who you can trust, the best thing to do is to choose a plumbing service provider with a well-established reputation like Drain King Plumbers.
We are proud to employ some of the best plumbers in the GTA and serve our customers with fast, efficient, and reliable plumbing services. Whether you are stuck dealing with a clogged drain, a burst pipe, a leaky faucet, or a flooded basement, we can help fix your problem quickly and provide measures to prevent further problems down the line.
Not only do we offer our services 24/7, but we also provide upfront pricing so that you know exactly what to expect when your bill comes around. We are also so confident in our work that we offer warranties on select repairs for up to 25 years.
For more information about the variety of plumbing installation and repair services we offer, or to learn more about our pricing, call Drain King Plumbers at 833-983-5663 or contact us here.