Why Plumbing Repairs Aren't a DIY Project
Posted by Jason Genah on 04-05-2019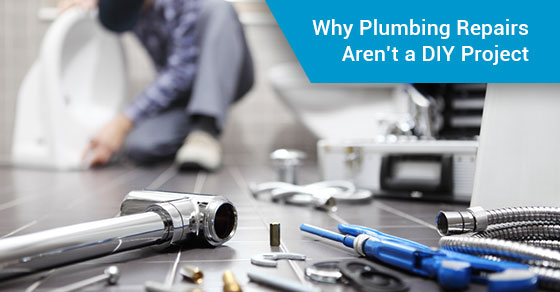 With the endless amount of information on the internet, DIY projects have become the norm for many homeowners. From laying hardwood to building your own deck, there are many things you can tackle yourself.
When it comes to plumbing, however, you should never attempt repairs on your own. Although it's great to be your own handyperson, DIY projects can quickly get out of hand. Here are some reasons why you should always call in the professionals instead.
Projects vs. Repairs
DIY projects are very different from DIY repairs. Projects are often one-time creations that begin on a clean slate. But with repairs, you always want the highest standard of quality. Otherwise, you'll be left trying to fix the issue all over again. Whether you're dealing with a burst pipe or leaky faucet, resist the urge to watch DIY videos. By investing in a good plumber upfront, you'll actually be saving money on costly repairs in the long-run.
Lacking the Expertise
Unless you've worked on plumbing projects first-hand with a professional, you're likely lacking the expertise. Most homeowners will watch a video tutorial online, and try to replicate what they see. But the problem is that many of these videos demonstrate only the minimum of what needs to be done. That's because the creators want to keep the clips relatively short so they're watchable.
These tutorials won't be able to help you when you encounter a different problem from the one you were initially trying to solve. Do yourself a favour and hire a professional plumber. They will know exactly what to do because this is where experience counts.
Improper Diagnosis
If your sink is stopped-up, you will most likely assume the drain is simply clogged. While this may certainly be the case, there could be more serious issues deep within your plumbing system. In a DIY situation, your natural reaction would be to buy a drain cleaner to clear out the blockage. But what if the clog keeps coming back and your drain starts to smell like sewage? Or worse yet, the problem starts happening to other drains in the house?
An improper diagnosis can spell disaster. By not knowing the full extent of your problem, you're simply masking issues at the surface. These band-aid solutions can destroy the overall integrity of your plumbing system. Hire a trustworthy plumber who can give you a correct diagnosis right from the beginning, so an effective solution can be implemented.
Improper Tools
Do you have a blowlamp or an adjustable pipe wrench? What about a pipe bender or a telescopic tube cutter? Chances are, unless you're a professional tradesperson, you probably don't. Many plumbing repairs will require specialized tools to get the job done right.
Heading to the hardware store to grab some screws for a fixture installation is absolutely normal. But clearing a clogged drain or addressing a cracked pipe? These things are much more complicated. Never attempt to fix plumbing issues with DIY tool kits. By hiring a plumber, you can be sure they have the proper materials to perform high-quality work.
Water Damage
Rerouting new pipes or extending old ones is a sure-fire way to get you in hot water—literally. Major modifications to your plumbing system are not DIY jobs. If you aren't a pro, you could cause flooding and create thousands of dollars in water damage. Leave plumbing to the experts, and have peace of mind knowing your job is in capable hands.
Not Enough Time
Let's face it. The reason why so many homeowners put DIY projects on the backburner is because they simply don't have the time. After working a full-time job and taking care of the family, who's got the energy to deal with repairs after-hours for no pay? Although that internet article may promise you a "quick and easy" DIY solution, chances are it'll take days or even weeks to get the job done right. Buying the wrong materials or accidentally skipping a step will only contribute to more wasted time. Hiring a plumber who does this for a living is the best way to get the issue dealt with immediately.
Drain King Plumbers is the GTA's most trusted team for plumbing repairs and emergencies. From professional drain cleanings to water heater maintenance, homeowners rely on us for all their plumbing needs. We take pride in providing honest assessments and offering effective solutions at affordable rates. Before attempting a DIY repair, contact our friendly team at Drain King Plumbers. Save yourself the time and headache by relying on the pros instead!
For more information, call Drain King Plumbers at 1-833-983-5301 or contact us here.