Top 8 Ways to Flood-Proof Your Home
Posted by Drain King Plumbers on 22-09-2021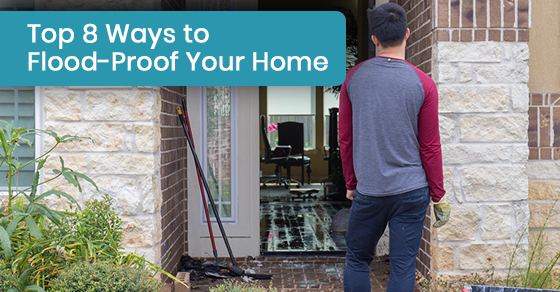 Flood water can damage the structure of your home and potentially cause long-term health problems for your family. With a proactive stance in protecting the property, you can safeguard your home for years ahead.
Our team has decades of experience offering flood protection guidance for Toronto homeowners.
In this latest post, we'll explain the eight most effective ways to flood-proof your home.
1. Clear your storm drains
Your local storm drains take in water and allow water on the street level to enter the sewers below. If lawn debris or other nearby material blocks the drains, you're more likely to experience flooding on your property.
Make sure that your drain is clear of leaves or other debris. If you notice that water is simply backing up from the drain, try to break up any blockages by pouring boiling water down. You might also use a plunger to remove mud or soil blockages. Don't take on any further or more complex maintenance work alone. Call your local plumber to snake the drain and ensure complete debris removal.
2. Install a sump pump
Many older homes, particularly those in more rural areas, may benefit from sump pump installation. The pump will be housed in a recessed area of the home and detect rising water levels on the property. When the pump detects high water levels, it will push water away from the property through a discharge line.
3. Undergo a plumbing inspection
Taking a proactive approach before you have a flooding problem can help you safeguard your home for the years ahead. So we recommend you undergo a plumbing inspection if you have a specific flooding concern.
Professional plumbers can visit your home and inspect the sewer lines and the appliances within the property. They can analyze system function and determine where there are shortfalls in performance. They can also improve the systems throughout your Toronto property to ensure effective flood protection.
4. Enhance your drainage system
The drainage system surrounding your property plays a key role in preventing floods. Proper drainage can protect your home and divert wastewater into the sewer system.
Consider the following methods for extending your drainage:
Enhance the length of the downspout
By improving the length of your home downspout you can take water further away from the property and lessen its impact. You can then channel the water to areas of high functioning drainage such as nearby sewer grates.
Have a plumber install an underground weeping tile pipe
You might also hire a plumber to install an underground weeping tile pipe that channels water from the home to a sump pump pit or storm sewer.
5. Purchase flood insurance
One of the most common mistakes homeowners make when maintaining their property is failing to buy flood insurance. If you don't have flood insurance, ensure that your current homeowner's insurance includes coverage for sewage backups.
Many policies don't have full sewage flooding coverage. And this can often lead to an expensive bill.
6. Have openings in the home professionally sealed
Cracks in the foundation and basement walls may allow water intrusion that causes flooding. To avoid floods within your basement, make sure the entire area is professionally sealed. One small crack in the foundation can cause tens of thousands of dollars in property damage. So don't try to go it alone with property repair. Call local experts in your area.
Experts can analyze your foundation and check for the signs of water damage. They can then seal the structure completely so that exterior water doesn't make its way inside.
7. Learn the signs of a potential water leak issue
By acting quickly and bringing in specialist assistance at the earliest sign of a problem, you can mitigate flooding issues within your property. This strategy requires you to learn the full range of signals associated with a water leak problem in the home. These signs include:
When water enters the basement space, it often rises from the lowest point. So one of the first signs you'll recognize if you have a home leak is cracked flooring. Look for warped or cracked flooring tiles. And check for any discolouration on the floor. This discolouration could signify water is pooling underneath but has not yet impacted the structure.
Water rings on the ceiling or walls
You may also notice that water rings appear on the ceiling or walls of the home if you have a property leak. These rings occur when water pools between the wall and the exterior elements of the property. You may not notice this level of water intrusion before it causes significant damage. So pay attention when you experience changes to your ceilings or walls as this may mean you have to call a plumber urgently.
The sounds of running water
It may not be a visual clue that tips you off that there's a water leak in the property. Many homeowners only discover a leak because they hear the sounds of running water and can trace the sound to one of the sinks or showers in the building.
If you hear the faint sound of running water, take the time to investigate the issue. Then contact your local plumber as soon as possible to determine the root cause.
8. Safeguard your home with a qualified plumber
While you can take the time to explore your property and complete the steps to prevent flooding, there's no substitute for professional guidance. An expert can help analyze your home systems and safeguard against flooding within the property for the years to come.
Our team at Drain King Plumbers helps local homeowners manage their home plumbing and ensure their systems are working to peak performance around the year.
To learn more about flood protection for your home, call Drain King Plumbers at 416-661-5464 or contact us here.