7 Ways to Create an Eco-Friendly Office Environment
Posted by Drain King Plumbers on 15-02-2023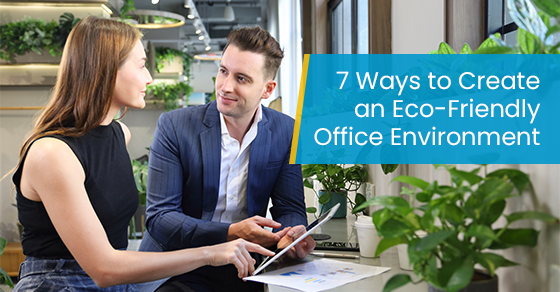 The office is where people spend over 30 hours every week. Some spend most of their weekdays at work with companies asking employees to return to the office. Businesses across various industries are striving to reduce their environmental impact. Companies are now reducing their carbon footprint by creating environmentally conscious workplaces. 
Top companies aim to reduce their carbon footprint like their CO2 emissions. They invest heavily in creating a workable yet eco-friendly atmosphere providing a better quality of life and work. There are multiple methods by which companies across the world use options like efficiency paths, energy-saving walls and lights, green plumbing systems, and recycling policies to ensure that they do their part.
From a business standpoint, environmentally conscious companies tend to have a more loyal customer base. Customers feel these brands are concerned for the general welfare of society. It makes companies stand out and works wonders for their image and branding. 
7 Ways to Generate an Eco-Friendly Environment
Offices globally are becoming eco-friendly by incorporating positive changes in their operational functions for greater impact. Let's look at how you can make your office more eco-friendly:
Reduce, Reuse, and Recycle. Support mindfulness around eco-friendly living and sustainability by establishing a recycling program. Provide information and promote awareness of effective waste disposal by establishing designated waste stations for different types of generated waste. 

Separate your recycling, compost, and reusable items in the trash. Check out options for the safe removal/donation of old computers, electronics, office chairs, desks, and anything cluttering up space.

Install Efficient Plumbing Fixtures. Toilets in office buildings use more water when compared to residential buildings. People in businesses tend to use water without being mindful of the costs or waste associated with it. Metered faucets are the latest innovation in helping businesses conserve water through a low flow rate.

They allow you to manage the amount of water that dispenses from the faucets and helps you stay green. Consider installing energy-efficient sinks and toilets that have sensors. Furthermore, when not in use, turn them off. Shutting them off eliminates the risk of someone leaving a tap open for hours. 


Retrofitting your washrooms with green faucets creates a positive environmental impact. Look for low-flow aerators and other similar accessories to save on water bills. It adds up and leaves a significant impact on your water consumption.

Conserve Energy Within the Office. Turn off unnecessary lights and put computers in green mode after business hours. It helps in energy conservation in addition to saving money on energy bills. Ensure that your management has communicated the green policy to the staff and employees allowing them to contribute towards reducing energy consumption. 

You can also consider installing motion sensors so lights are not on in buildings after business hours. It means lights will only turn on for areas where it detects movement.

Go 100% Paperless. With everything going digital and digital transformation taking over industries rapidly, companies are opting for and investing in many cloud computing solutions to stay connected to coworkers. Marketing, communications, and HR-related functions have slowly shifted to digital modes.

 



Companies can bring all employees together via email, chats, and other digital options streamlining communication. Many apps integrate well into a well-communicated system of employees and staff in your office.

Use Plants as Decor. Offices can add a dash of green by installing plants all over the coworking space. Plants are a great way to spruce up the office and bring more life to an otherwise mundane-looking environment. 

There are a lot of nurseries that offer different types of plants suited for indoor settings and require less maintenance. Some offices have a plant wall that adds a dash of green to their interiors and brings life to the interiors.

Promote Sustainable Transportation. Support your employees to go green by offering them shared transport services like carpooling or office buses. Companies can provide transit subsidies or discounts to employees who commute to work via public transportation as a lucrative benefit. 
Additionally, you can promote a hybrid work environment allowing people to remain home unless they have to be at the office.

Invest in Green Office Supplies. Businesses need basic items to function every day. These include paper, coffee, ink, and stationery. When purchasing office supplies, you can start by evaluating your needs versus desire to prevent over-purchasing. Consider purchasing high-quality products with a long shelf life to limit the amount of waste generated and save money over time.

Lastly, ensure that you include your employees in your environmentally conscious vision by engaging and involving them in your corporate initiatives. Talk and collaborate with departments and team members and encourage any ideas. It allows them to feel heard and involved. 
You can always promote a "go green" campaign internally and provide awards to people who go above and beyond their duties to stay eco-friendly. It creates a sense of involvement and keeps people motivated to do better. 
Many companies also make sure that employees are living consciously and provide handouts they can take home to educate and raise family awareness. 
Drain King Plumbers has several eco-friendly options for your office space. You can opt for effective plumping that saves water and reduces your water bills in the long run. 
Contact the Professionals
If you are considering options for tackling a home flooding situation or to understand if you are at risk, you can always visit Drain King Plumbers for an evaluation. For emergency plumbing in Toronto, reach out to Drain King Plumbers. 
You can also book an appointment at 833-983-5663 or visit our website here to find out more details about our different drainage clearing services.